*You may find affiliate links for things I love! At no extra cost to you, I could receive a small commission if you click and buy thru my links. Thanks! ~Coppelia
This is a sponsored post. All opinions are my own — Our family had a TON of fun! 🙂 
They had me at "SeaWorld's Christmas Celebration." I mean, does it get any cuter than sea lions, otters, candy canes and Santa?! I couldn't wait to check out all the fun and kick off the holidays at Sea World San Antonio!
Then, they made the offer sweeter with the promise of "The Largest Display of Lights in Texas!"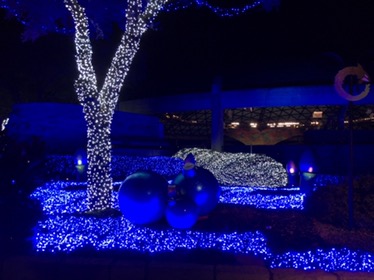 Are you saying in all of TEXAS, the best place to see Christmas lights is SeaWorld San Antonio? I'm SO there!
Y'all, we know everything is bigger in the state I now call home, but this Christmas-holic instantly knew where I wanted to take my kids for Thanksgiving break: Sea World San Antonio!
A SeaWorld Surprise!
My hubby and I decided to keep it a secret, so the kids would get even MORE excited when they found out where we were headed! They'd never been and I fully expected a dance party in the car!!! WOOHOOOO!!!
We live in Houston, so the drive was already going to be part of the fun (we love road trips … and Buc-ee's!) And while it was bittersweet that we would not spend the Thanksiving holiday with family (my mom asked us not to come because she didn't feel great and did not want us to catch what she had), I was looking forward to a fun break with our little family (our life had been UBER busy lately and we needed the break!)
I knew this was going to be fun (dolphins! Five million Christmas lights!) What I was not anticipating was exactly how MUCH fun we were going to have.
Guys. We had a blast! I mean, look at this.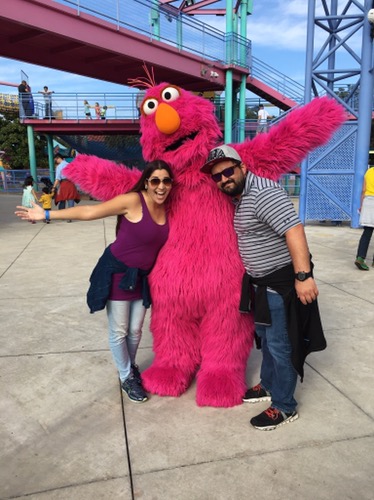 And this.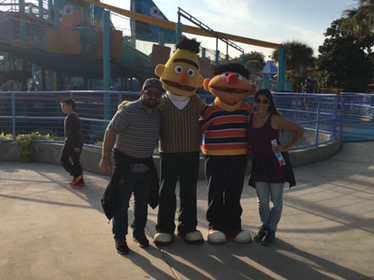 And I haven't even started with the kids! While my hubby and I were goofing off with these Sesame Street characters (I was giggling the whole time), the kids were off climbing all over the Sesame Street Bay of Play …
… the same one they kind of said they were "too old" to enjoy. Yep. They sure "didn't" enjoy all that fun! LOL!
Sea World San Antonio's Sesame Street Bay of Play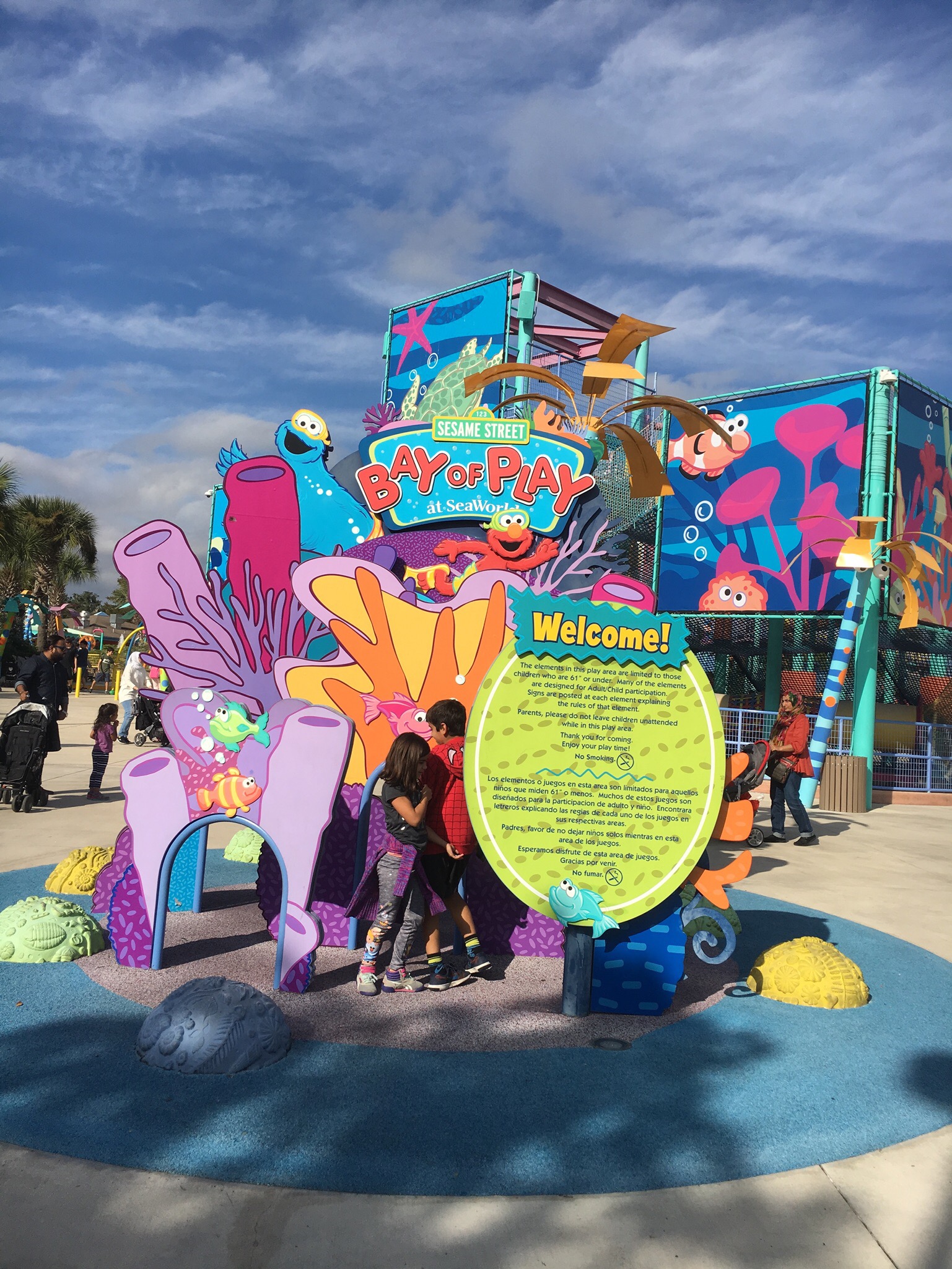 They even loved the RIDES! I particularly enjoyed seeing my hubby with our daughter on Elmo's Dolphin Dive!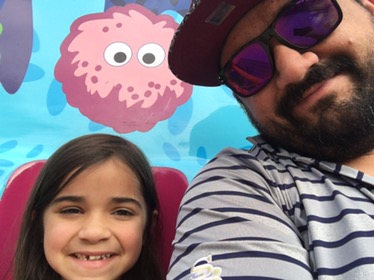 While our kids are older at 7 and 10 years old (even though they're not too old to enjoy Sesame Street — ha!), I noticed a lot of parents with babies, toddlers & strollers who were having a blast themselves! It's definitely a family-friendly park with a lot of options for all ages.
I knew the kids were going to really enjoy the shows, so we planned the rest of our day around the shows, you know, after they were sufficiently played out with Elmo & friends at the Bay of Play! (I still think that's hilarious!)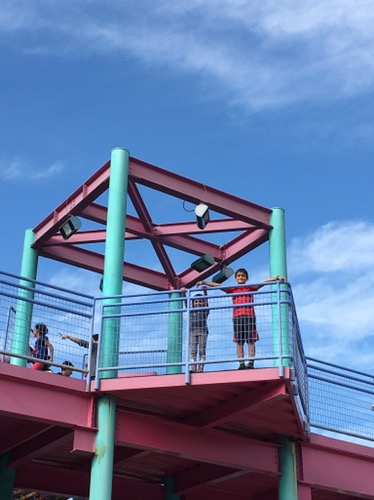 Eating with Food Allergies at Sea World San Antonio
As a family with food allergies (dairy, peanuts and tree nuts), I really appreciated the staff at Rosita's Cafe for taking care of us. It was easy to talk to kitchen staff, get all our questions answered about the menu and feel confident that our requests were being handled with the utmost care. We really appreciated it.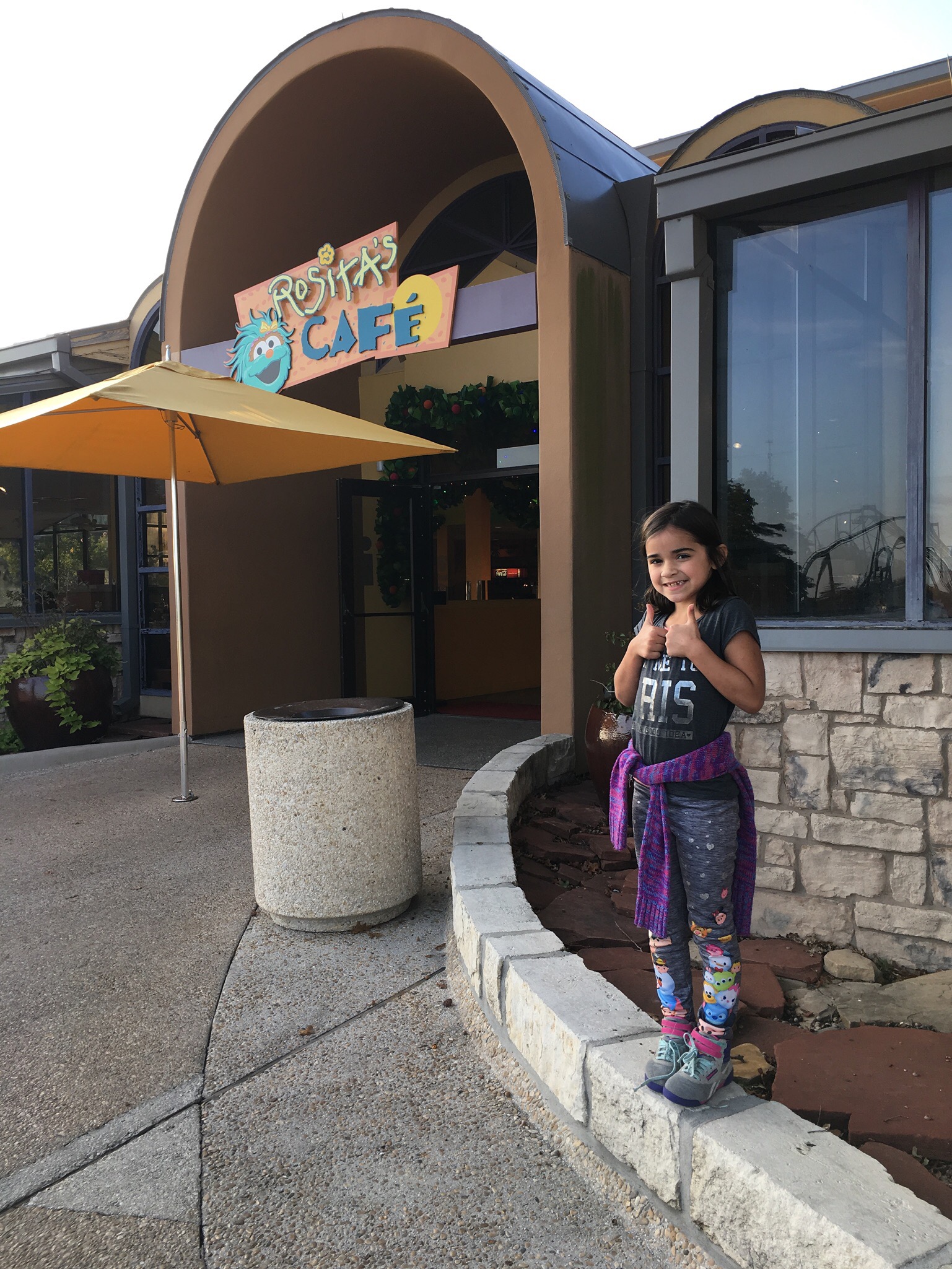 Back to the shows, it's hard to pick a favorite. They all had something that made it "our favorite"! But here are a few highlights:
SeaWorld San Antonio's Christmas Celebration Highlights!
A Dolphin Christmas
The aerialists were awesome to watch, flying and skimming the water, right along with the dolphins! It was a beautiful show with music, lights, the works! I loved seeing my kids eyes light up each time the dolphins flew out of the water!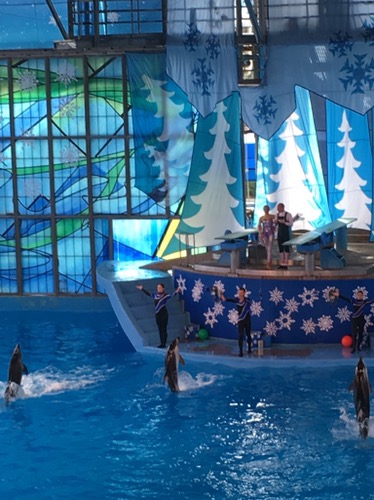 Pets Ahoy!
I wish my in-laws would have been here to see it (we'll have to bring them next time!) I loved how one trainer at the opening of the show explained how many of the pets are rescued right in San Antonio. Gotta love those rescue buddies! But don't think it was just dogs & cats … the PIG may have stolen the show! LOL!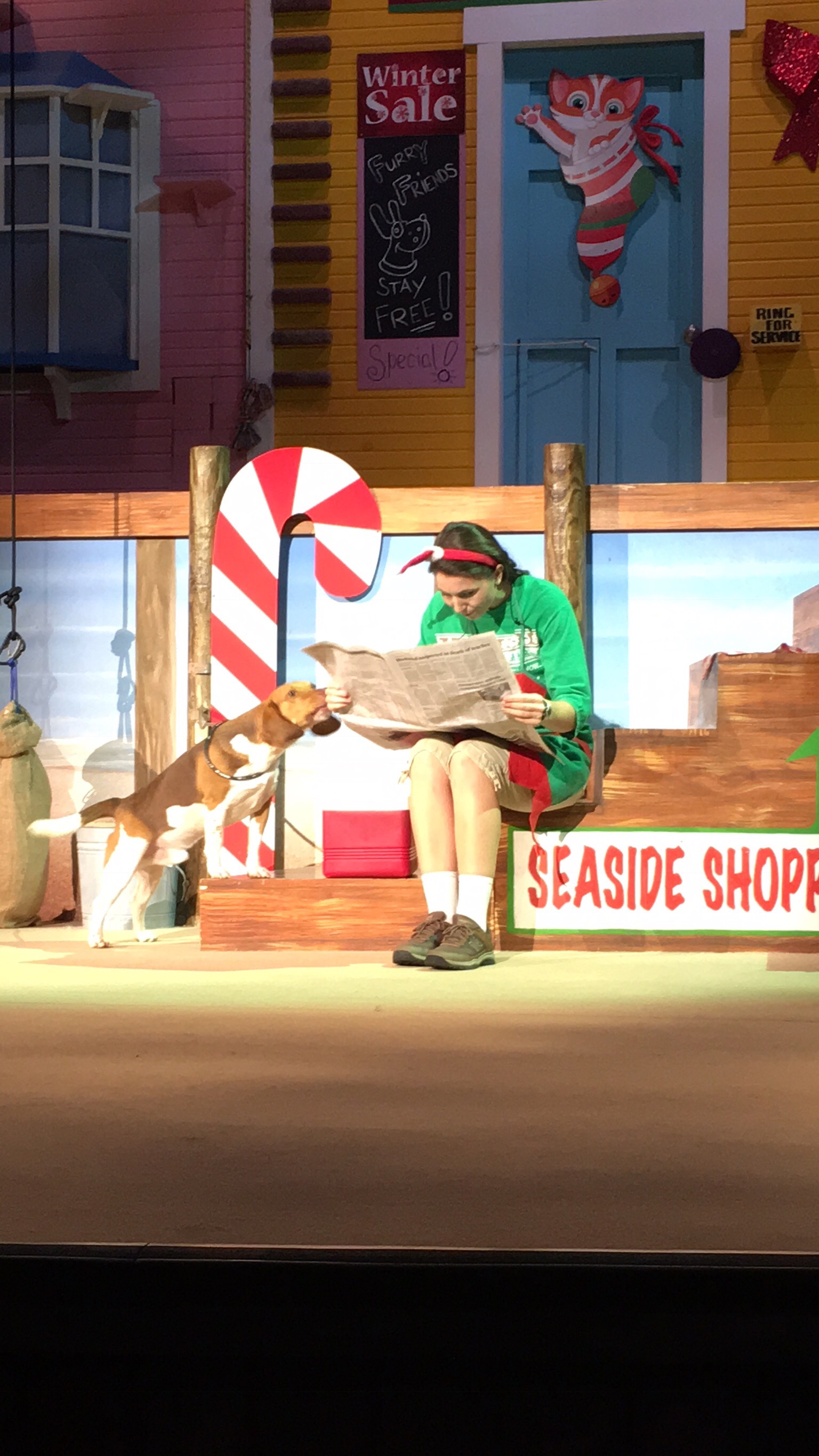 Clyde and Seymour's Countdown to Christmas
Pets Ahoy was cute and funny, but the Sea Lions and the little otter!!! Omygoodness! I think this was the comedy show of the night! One of the SeaWorld girls told us to plan to see the shows at night to really enjoy the lights — and we're glad she did! The pavillion looked magical at sunset! And the opening show mime had us cracking up, engaging members of the audience, getting everyone laughing and clapping along … and then SANTA!!!! (ok, maybe this was my favorite!)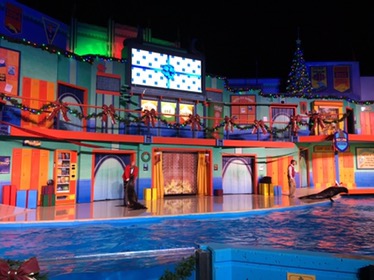 Shamu Christmas Miracles
No, wait, THIS was our favorite! This one really tugged at my heart strings with the theme of miracles. They shared stories of people who had experienced miracles in their own lives (wasn't expecting that at a killer whale show!) The live singers were giving me chills when they started singing these lyrics:
There can be miracles when you believe
Though hope is frail, it's hard to kill
Who knows what miracles you can achieve
When you believe, somehow you will
You will when you believe
As I thought about this song again today, writing this blog post, it dawned on me why this song is so special to me personally: my sister and I used to love Whitney Houston and Mariah Carey growing up, and they sang that song as a duet for "The Prince of Egypt" movie soundtrack. Memories!
And I think my favorite thing about the Shamu Christmas Miracles show was how much it celebrated the fact that Christmas is about the "baby in the manger." They almost said the name "Jesus" which, as a Christian, I would've been thrilled to hear! But there is so little "true Christmas" in the public arena these days, that I wanted to stand up and cheer for SeaWorld … which I did when the live singers went into a full-on Gospel rendition of "Are You Ready for a Miracle?" (Ready as I can be! OOOOooooohhhh!)
Reflections
Speaking of singing (ha!), on our way out, happy and exhausted after one of the most fun Thanksgivings we've ever had, the beautiful Christmas stage by the entrance to the park had one final show. This one had everyone from the Elf, Mary & Joseph, the live Gospel singers & more! It was SO fun to sing along as we were not quite ready to leave, but tired enough to be happy to head back to our hotel.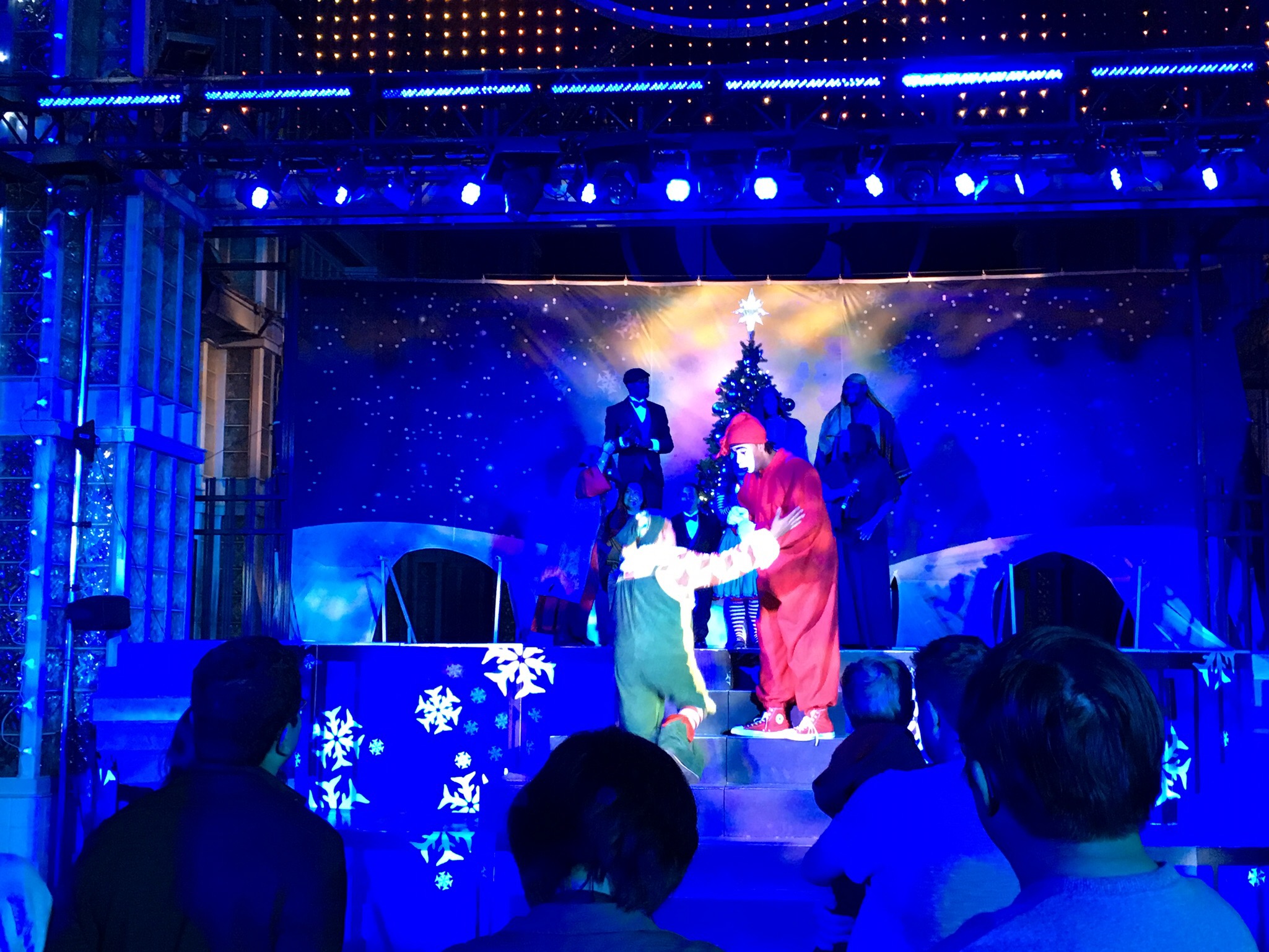 I'm kind of sad that we missed two musical shows: the Nativity Singers and the Ho Ho Hoe Down with Santa (that just sounds awesome!) We'll just have to come back to check them out, especially because we did walk by a beautiful Nativity scene inside the Joy to the World area of the park, and I can imagine how beautiful it must be to hear Christmas songs next to baby Jesus!
Rudolph's Christmastown & more!
In between all the shows (which were totally worth the trip), we made sure to visit Rudolph's Christmastown and the Christmas Market (with carnival games!) There was so much to do, we wanted to do it all! But the pictures inside Rudolph's giant (and I mean TEXAS-sized giant) snow globe, the little train ride around the Island of Misfit Toys, the stroll under the most amazing light tunnel … even if we didn't get to do it ALL, every moment we spent walking around trying to do it all was more than worth it.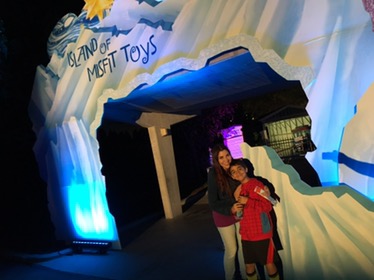 If you're looking for something AWESOME to do this Christmas and a little trip to San Antonio is not too far for you (maybe you have friends and family there who can join you!), I can't tell you enough how much our whole family loved SeaWorld's Christmas Celebration!
I honestly hope we can come back (and bring a few friends!) Or if you're going, let us know and we might join you there!
Let me know if you go (or have gone) to the Celebration in the comments below — I'd love to hear what you think! Can't wait to hear your stories!!!
And I hope you have a Merry Little Christmas … Happy Holidays and all the JOY in the World!
Laughing (and caroling) through life,
Coppelia
P.S. How could I forget the Merry Mariachis??? These guys greeted us when we first walked into the park … and we knew we were in for a SUPER fun day!!! Feliz Navidad for real! Haha! 
P.P.S. Even cooler, the SeaWorld Christmas Celebration in San Antonio is open through January 1st! I hope you get to go! Here's a link to find out more: https://seaworldparks.com/en/seaworld-sanantonio/christmas