*You may find affiliate links for things I love! At no extra cost to you, I could receive a small commission if you click and buy thru my links. Thanks! ~Coppelia
Believe it or not, yes, now is a good time to talk about easy and frugal ways to order Christmas Cards! We're in the '60s! And I'm talking both low temperatures in Florida where I live, AND the fact that we are now just 69 days away from Christmas!!!
This morning I went for a run and it was 69 degrees. I'll take it! And as we continue to get closer in this 101 days till Christmas countdown, the to do list is growing! So if you're thinking of sending Christmas cards or holiday cards, now's the time to research frugal ways to do it!
I've had good intentions in the past, and yet haven't sent cards. Other years, I've tried different options to order cards. And I'm sharing a few of my favorites right here!
My Top 3 Easy and Frugal Ways to Order Christmas Cards!
The cool thing about creating these Christmas cards or holiday cards is that you don't need to spend extra money on a new photo shoot (unless you want to!) You can go through the photos on your phone, upload a few favorites and jingle BAM! Your family Christmas photo is done!
1. Walgreens photo
I can't say enough how much I LOVE Walgreens photo! (And no, this is not an ad! Lol!)
When my son was born 13 (almost 14) years ago, my hubby and I had moved away with the first grandbaby on both sides of our families all the way from Puerto Rico to California for my new job. It was hard to be so far from the grandparents! But I love that we were able to upload photos on our phones to the Walgreens photo app, and our parents could drive to their corner Walgreens and pick up those sweet grandbaby photos on the SAME DAY!
It's also that easy to upload photos to the Walgreen's app, pick a Christmas card design you like and order prints. All you need to do is update your Christmas Card address book! Can you believe how EASY that is? Love it!
And your frugal Walgreens tip is to Google "Christmas cards Walgreens coupon codes." I often find coupons and deals on sites like Retail Me Not!
2. Shutterfly
Speaking of FRUGAL, Shutterfly currently has 50% off their Christmas Cards and they are SUPER cute! (The deal ends October 20th, 2019.)
Shutterfly has a new AWESOME feature that lets you see YOUR photo in all the designs, just by uploading the photo first, and then browsing all the options. So cool! I tried it real quick, just to give you an example here, and used an old Thanksgiving photo from 2017 (when we had just moved in to our DREAM home in Houston!)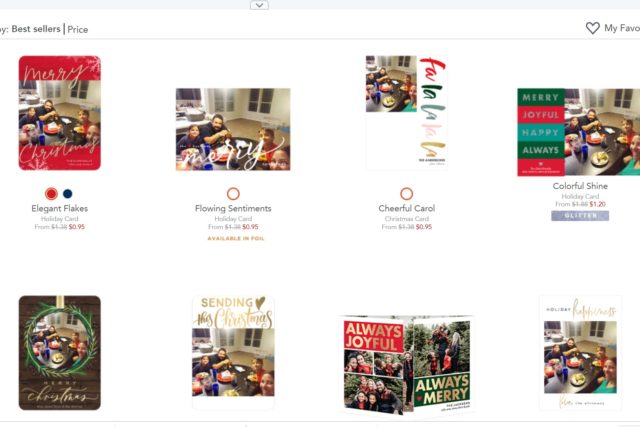 3. Snapfish
Have you ever tried Snapfish for photo cards and albums? A few years ago, my sister shared it with me and I loved it! They have really cute designs and even BETTER deals!
If you're new to Snapfish, they have a 100 free prints offer for you! And if you ALSO use Swagbucks, when I checked today (October 17, 2019), they had 21 coupons and up to 10% cash back with Snapfish on Swagbucks! (Here's my SWAGBUCKS REFERRAL link if you want to check it out!)
When I logged in today (10/17/19) and searched for "Christmas Cards" and "Holiday Cards" on Snapfish, I found these epic deals:
AMAZING PRICE! Save 70% on 5×7 Standard Cardstock Cards with COOLCARDSee details
SITEWIDE SALE! Save 60% on all orders with 60SITE19See details
Got any other Easy & Frugal Christmas Card ideas to share?
Post them in the comments! I'd love to hear your ideas and suggestions to make this 101 Days till Christmas even MORE fun (but still frugal!) 🙂
Laughing thru life,
Coppelia