*You may find affiliate links for things I love! At no extra cost to you, I could receive a small commission if you click and buy thru my links. Thanks! ~Coppelia
My daughter's End of the Year Kindergarten Program this week had a 50's theme. She kept reminding me about it and practicing her songs (one of which was a cute version of "Summer Lovin'" from Grease that said "Kindergarten, we had a blast; Kindergarten, happened so fast!"
AWWWW! It DID! I can't believe my baby is pretty much done with Kindergarten!
I started to hope that I wouldn't start crying and embarrass her during the program! LOL!
As the day got closer, my daughter wanted to know what she would wear, but she was pretty clear on one thing: "Mom, I don't want to wear a poodle skirt!" I didn't even know that she knew what it was!!! They must have been talking about it at school. I had no problem with exploring other cute 50's outfits ideas, and the more I searched, the more I gravitated toward either Pink Ladies from Grease, or Rockabilly style ( you know, poodle-skirt-free.)
We went shopping (in her closet first). We didn't have a shiny pink jacket, and that would probably cost a little more than we wanted to spend, so Rockabilly it was! Turns out, she already had the perfect jeans for cuffing and super cute sparkly black high tops that were just darlin'! (By the way, I'm sharing similar items here, in case you're interested in replicating the outfit! These are affiliate links, so if you click & buy, I get a small commission at no extra cost to you! Win-win!) 
We snagged my hubby Adam's red bandana (thanks, Babe!)
Then, I checked out YouTube videos and pins on Pinterest to figure out how to do that cute victory rolls updo with the bandana that is super Rockabilly. (I was hoping we wouldn't end up with a Pinterest FAIL!!! lol!)
To finish off the outfit, we ended up getting a GREAT deal at JC Penney. They had a $10 off $25 coupon, where we snagged a cute jean jacket she'll be able to use many more times, and a cute top that she loved. (By the way, you can shop JC Penney through Ebates and get cash back! If you haven't signed up, here's my Ebates referral link — you get $10 and I get $50 if two friends sign up & use it!)
We put it all together and my cute Kindergartener baby turned into a hip, cool cat from the 50s!
I just looked up from the computer and saw another adorable photo of my little girl when she was a smiley little baby. Kindergarten really did happen so fast, I can't believe it'll really be over next week. I might have to save that for another blog post! In the meantime, I got inspired by the slower pace of the 50's to share these 3 simple tips to savor every moment (whether your baby is done with Kindergarten or graduating High School!):
Use Your Eyes, Not Your Phone Camera Lense!

I feel like some "special events" I see more through my iPhone than with my naked eye! For my daughter's Kinder program, I tried to take only a handful of photos, so I could actually watch the Kindergarten program itself! I enjoyed it AND I got a few pics. It was so cute!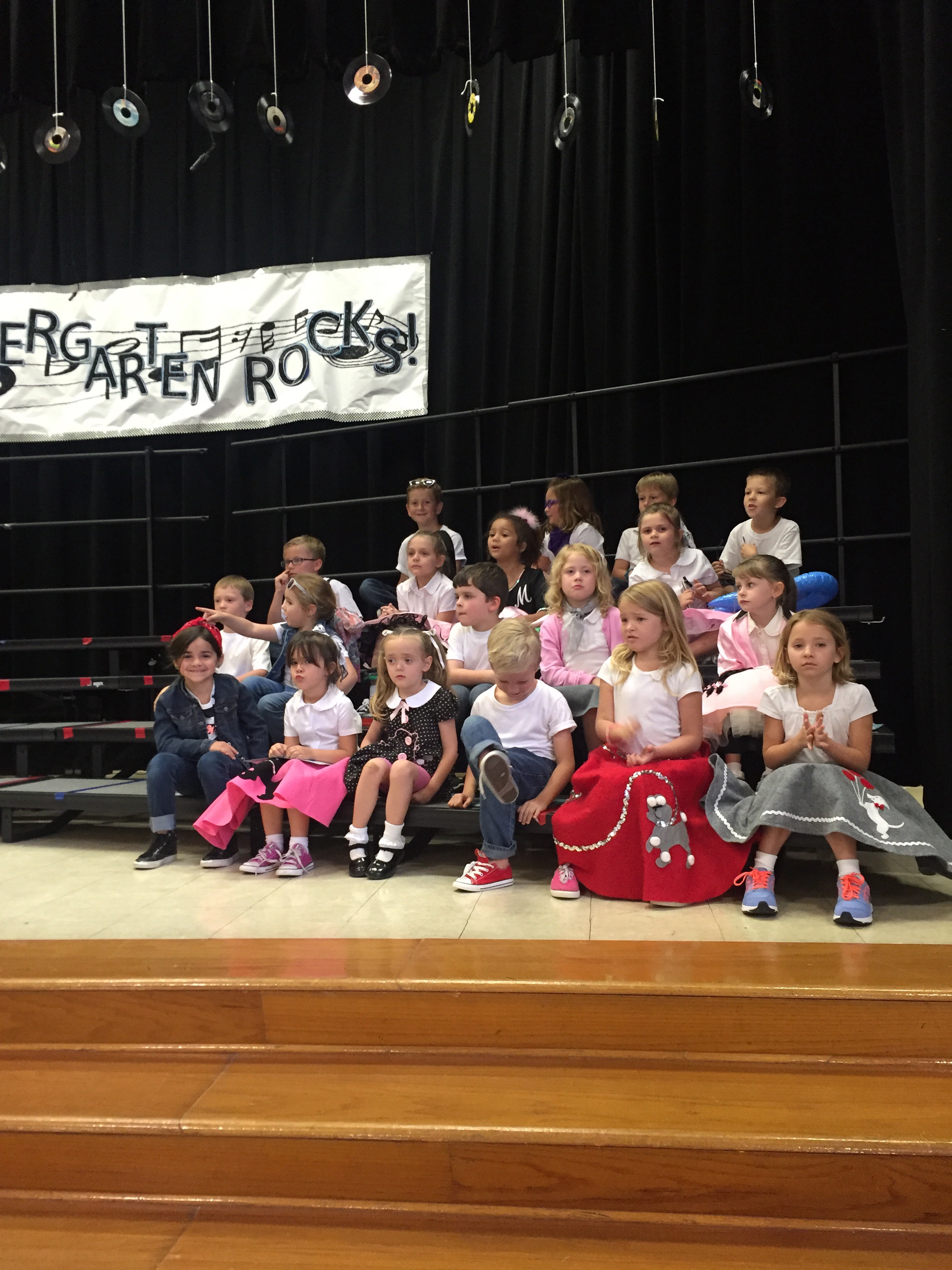 Ask … and then Dig a Little Deeper:

Not just now, but throughout the school year, I've tried to ask both my 10 year old son and Kindergarten daughter when I pick them up from school, "How was your day?" Usually, after the "good" reply, I'll try to dig a little deeper. Sometimes, we don't go very far. But other times, I end up hearing all about the soccer game during recess, or about whether two 6 year olds can have a sleepover! Aren't they a little young to have sleepovers in Kindergarten? I might have to do another blog post about that, too!
Hug Often and Long

We are always in such a hurry! If you talk to older folks, one of the things they'll mention is how much slower things used to be back in their day. Today, there are so many things to get done, quickly! I realized one morning that I was only half hugging my kids (and the other half was holding my purse, phone, groceries, backpacks, etc….) I am trying to make a conscious effort to put things down and EMBRACE my kids (and my hubby, too!) I don't want to half-hug my family, I want them to know how much I truly love them. And sometimes we just need to stop moving so fast past each other, put everything down, take a few moments to look into each other's eyes, say I Love You, and just hug. Really, just hug.
I have a few New Mom friends who I see sharing photos of their babies (I LOVE IT!) and they often lament how quickly they're growing up. I get it … time really does fly! My Kinder baby is almost done with Kindergarten (and I'm about to turn 40!) What the heck is happening??? LOL! Seriously, though, yes, time might fly, but we are not even guaranteed tomorrow. Let's learn from older generations and bring back some of that slowness … at least when it comes to loving our families.
If today is what we have, let's Enjoy it and Embrace it with all the love in our hearts.
Love,
Coppe