*You may find affiliate links for things I love! At no extra cost to you, I could receive a small commission if you click and buy thru my links. Thanks! ~Coppelia
5/22/17 UPDATE! Congrats to my two winners, Lois & Jessica! And thanks to everyone who entered the giveaway! Be sure to sign up for Coppe News or follow me on social media @CoppeliaMarie for future giveaways and more family, faith & fun!
Yo ho! Yo ho! A pirates life for me … and for YOU if you wanna win tickets to see the NEW Disney Pirates of the Caribbean Dead Men Tell No Tales … at the Houston screening next Tuesday, May 23rd!  I'm super excited to bring you this giveaway, sponsored by Allied Integrated Marketing for Disney.
OK, so tell me about this Pirates Giveaway!
All you have to do is post in the comments your answer to this question:
What would you say is the ONE THING you treasure most?
I can't wait to read your answers!
And I'll pick TWO winners of 4 tickets to the screening next Tuesday!
We'll announce the winners on Monday, May 22nd!
Be sure to scroll down for more details about the screening and all the official PIRATES links! Those are perfect if you want to check out the latest video trailers, posts and graphics to ALL things Piratey! Makes me wanna go back to Disney World and get on that boat ride! (Just watch out for that real-looking Johnny Depp! Haha!)
Ok, let's do this contest giveaway thing. Yo HO!!!
Go post your answers in the comments for your chance to win!
I'll start: My answer to the ONE THING I treasure most is my relationship with Jesus 1st and my family 2nd. I'd be lost without him and my life would be very different without the amazing husband God has blessed me with and the two awesome kids that we have been blessed to call our son and daughter.
Feel free to make your answer as sweet, sentimental or funny as you want! It's a FUN FRIDAY CONTEST!!!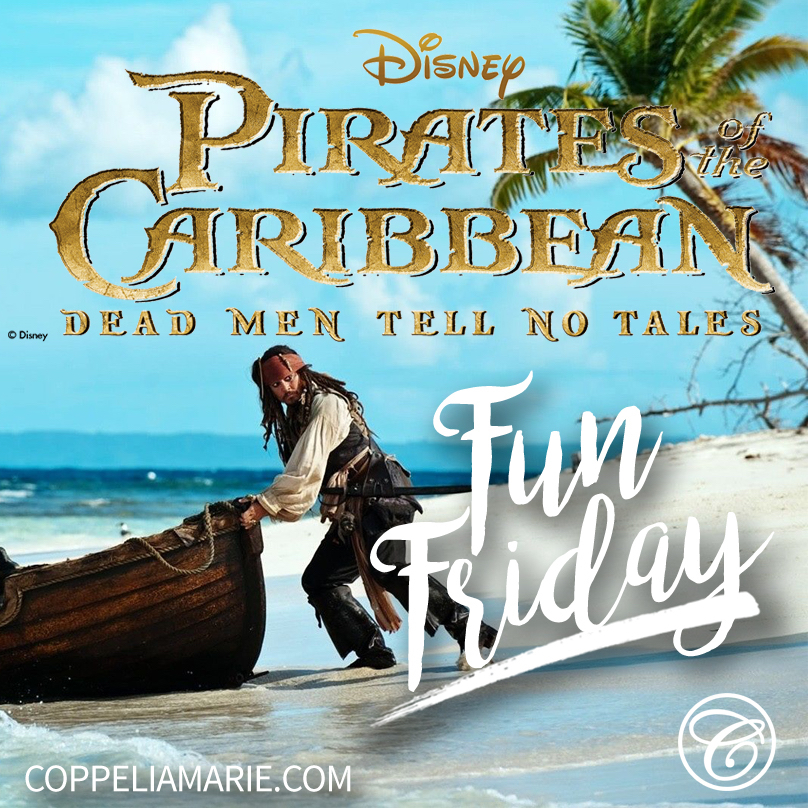 Houston Screening of Pirates of the Caribbean: Dead Men Tell No Tales
Date: Tuesday, May 23
Time: 7:30 PM
Movie Theatre:
AMC Gulf Pointe 30
11801 S. Sam Houston Pkwy. E.
Houston, TX 77089
MORE PIRATES!
YouTube: https://youtu.be/c0HEWeTvM8Q
Website and Mobile site: https://pirates.disney.com/
Like us on Facebook: https://www.facebook.com/PiratesOfTheCaribbean
Follow us on Twitter: https://twitter.com/DisneyStudios
Instagram: https://instagram.com/DisneyStudios
Laughing (and pirating) thru life,
Coppelia