*You may find affiliate links for things I love! At no extra cost to you, I could receive a small commission if you click and buy thru my links. Thanks! ~Coppelia
This post is sponsored by
Shine, Girl
. All opinions are my own. And I'm super excited to share this with YOU because I think it's something that'll change the way our daughters experience their first shave!
That first shave!
Do you remember the first time you shaved your legs? Was it daring (because you did it without permission?!) Was it exciting or awkward and weird? I think for me it was a combination of "all of the above."
If you have a daughter who is close to that stage in her life, this could be THE THING that makes your daughter's first shave special, sparkly and fun! It could even bring the two of you together. Imagine that!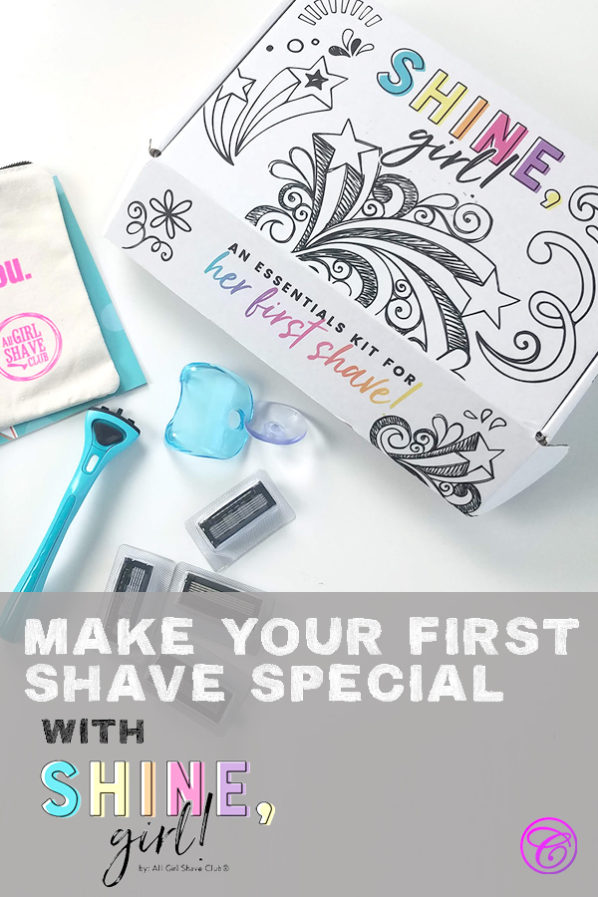 Can shaving be fun?
Seriously, though, can you imagine actually looking forward to shaving? And is it even possible to have a FUN conversation with your tween daughter about it? It's totally possible if you have Unicorn Kisses shave butter and Vanilla Cupcake sugar scrub, plus Pear Goddess body lotion to complete the experience! That all sounds amazing to me! And it's ALL included in the
Shine, Girl box
, designed to help you guide your daughter thru her first shaving experience.
Probably my favorite part of the box is the guidebook that includes a journal section to share all the details about the "first shaving experience." It shows easy to follow, practical tips on "how to shave." But it also focuses on celebrating everything that's wonderful in your girl — what makes her special, beautiful and unique!
Shaving as self-care and pampering
What a way to introduce our girls to shaving in a way that turns the experience more into self-care and pampering than a "necessary bathroom ritual" that we often dread. This is something you and your daughter can both look forward to! And in my case, we might need to share the Unicorn shave butter!
Check out the unboxing video below that my tween daughter and I did together. This is another way to make
mommy daughter memories!
  The video gives you a look inside the
Shine, Girl Box
and all the goodies! And keep reading below for my top tips on how to make your daughter's first shave special. (I'm planning on saving these until it's time for my daughter's first shave!)
Check out the Shine, Girl Box UNBOXING video! 
How to Make Your Daughter's First Shave Special!
1. Decide if she's ready.
I love
this article by Secret Keeper Girl
on how to talk to your daughter about shaving her legs. It asks questions like does her arm or leg hair bother her and is she responsible enough to handle a razor safely. Plus, I love that it says girls as young as 9 may be ready, but others may want to wait a few years … and either way is ok!
2. Buy all the fun stuff (aka shaving supplies)!
Of course, your daughter will need a new razor and shaving cream or gel. And this can either be something you add to your list the next time you go shopping, or you can make it fun by letting her pick out her favorites! Of course, the
Shine, Girl Box
has everything you need — the razors and handle, scrub, shave butter, lotion and extras that make your daughter's first shaving experience one she'll remember forever!
3. Plan a girls day "in"!
Once you've decided your daughter is ready for her first shave and you have all the supplies you need, why not put a special date on the calendar? It can be as simple as a few hours that you set aside for that first shaving adventure (so there's no time pressure or rush.) Or you can decide to do a whole day of pampering: shave, get your nails done, go shopping for a cute outfit, watch a movie, grab a bite to eat or stop at a coffee shop … so many ideas! This can truly turn into a special celebration of your special girl!
Once your daughter's first shave experience is a success, celebrate it! That's something the
Shine, Girl Box
guidebook is great for — sharing affirmations that remind your daughter that she's perfect, just the way she is! Shaving is just another fun part of taking care of ourselves. (Kind of like how you're already beautiful — but putting makeup on is a fun part of being girls!)
SHINE, GIRL BOX COUPON!
If you want to check out the
Shine, Girl Box
for your daughter or a special girl in your life who is just starting to shave, this coupon code below is for YOU! And if your girl is still a bit young, feel free to pass it on to a mom and daughter who will LOVE this, so they can enjoy it and save money, too!
Just click on the image below to visit the Shine, Girl Box website and use the code CMSHINE!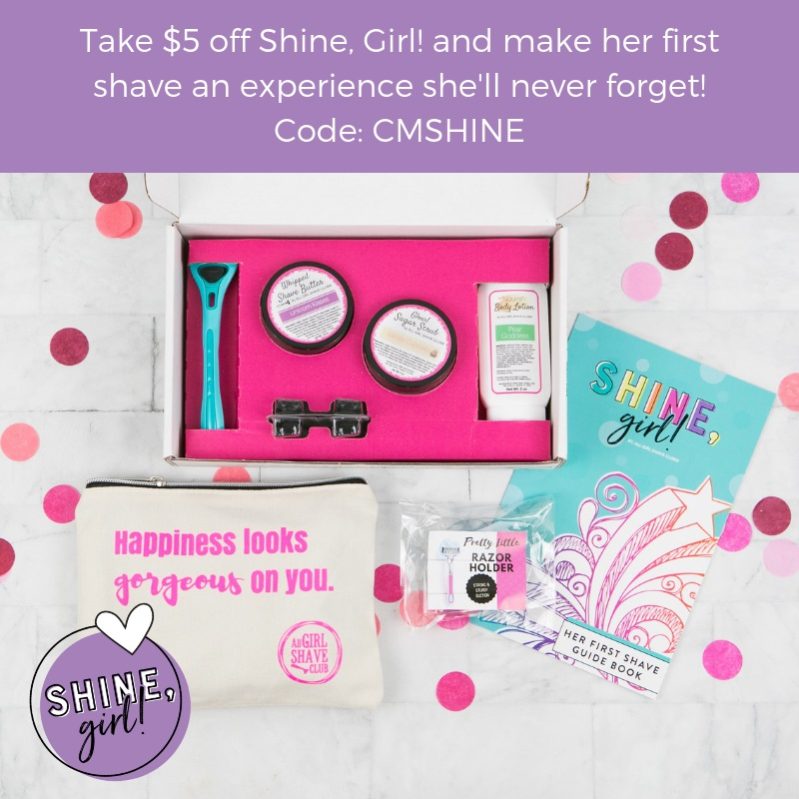 I hope you LOVE the Shine, Girl Box!
Laughing (and shining) thru life,
Coppelia