*You may find affiliate links for things I love! At no extra cost to you, I could receive a small commission if you click and buy thru my links. Thanks! ~Coppelia
Well, this was unexpected!
I have a 7 year old daughter and an 11 year old son and I wish we had more quality time together. (I love these two!)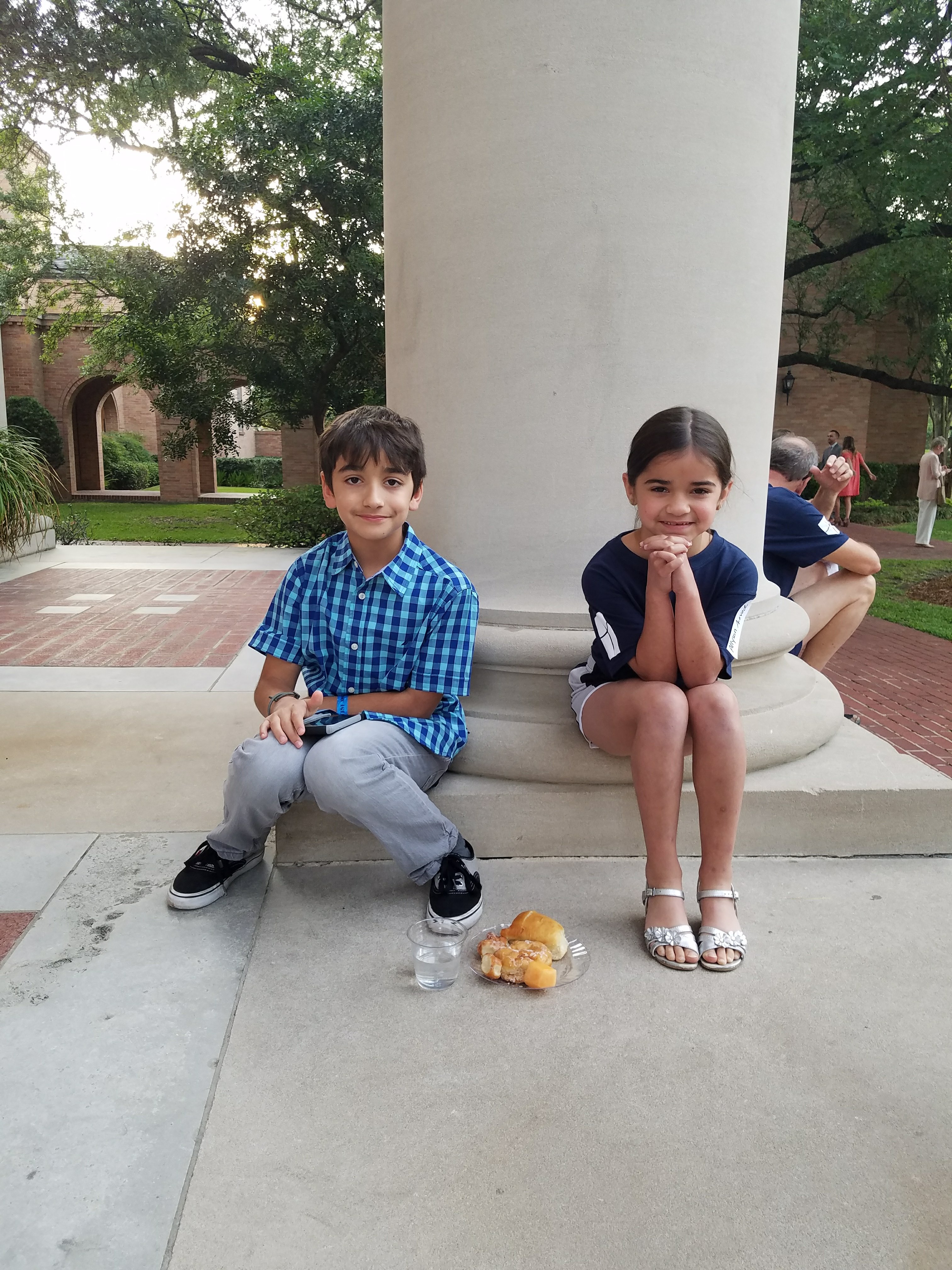 If you have a busy schedule, you know how hard it can be to spend quality time with the people we love. We want to, but unless we plan, it won't (or seldom will) happen.
My hubby and I try to plan date nights as often as we can, but that's not always the case with the kids.
I feel like I need to be more intentional about mother son and mother daughter dates.
Before I had time to brainstorm and dream up date ideas, I was surprised when a new mother daughter date tradition came out of a blogger event! (I'm still working on the mother son ideas!)
How a New Mother Daughter Date Tradition Got Started! (You can do this, too!)
Recently, my friend and Houston Latina Blogger Amanda celebrated three years of her passion project, Positively Beautiful Life. It really is a beautiful, inspiring blog where she shares about her family, her faith and her gorgeous fashion style. I'm a fan! And I was honored to receive an invitation to her Blogiversary, celebrating 3 years of blogging, at a Charming Charlie store!
Ok, I have a confession. I was a bit scared of Charming Charlie. They have SO MANY THINGS! And I'm not a super girly girl, so I often opt for simple outfits with minimal accessories. I'd rather do that than go shopping for "cute girly stuff."
Do we really need all this cute, girly stuff???
Let me clarify that whole "cute girly stuff" thing. I love makeup and cute outfits … just every now and then. And it has to be a special occasion to get me motivated! lol
Not surprisingly, my 7 year old daughter is not a super girly girl either. She's a very active gymnast and loves wearing shorts and jeans (like mom). It can be a fight sometimes to get her to wear dresses, although she occasionally will agree and proceed to twirl and make all the cute poses!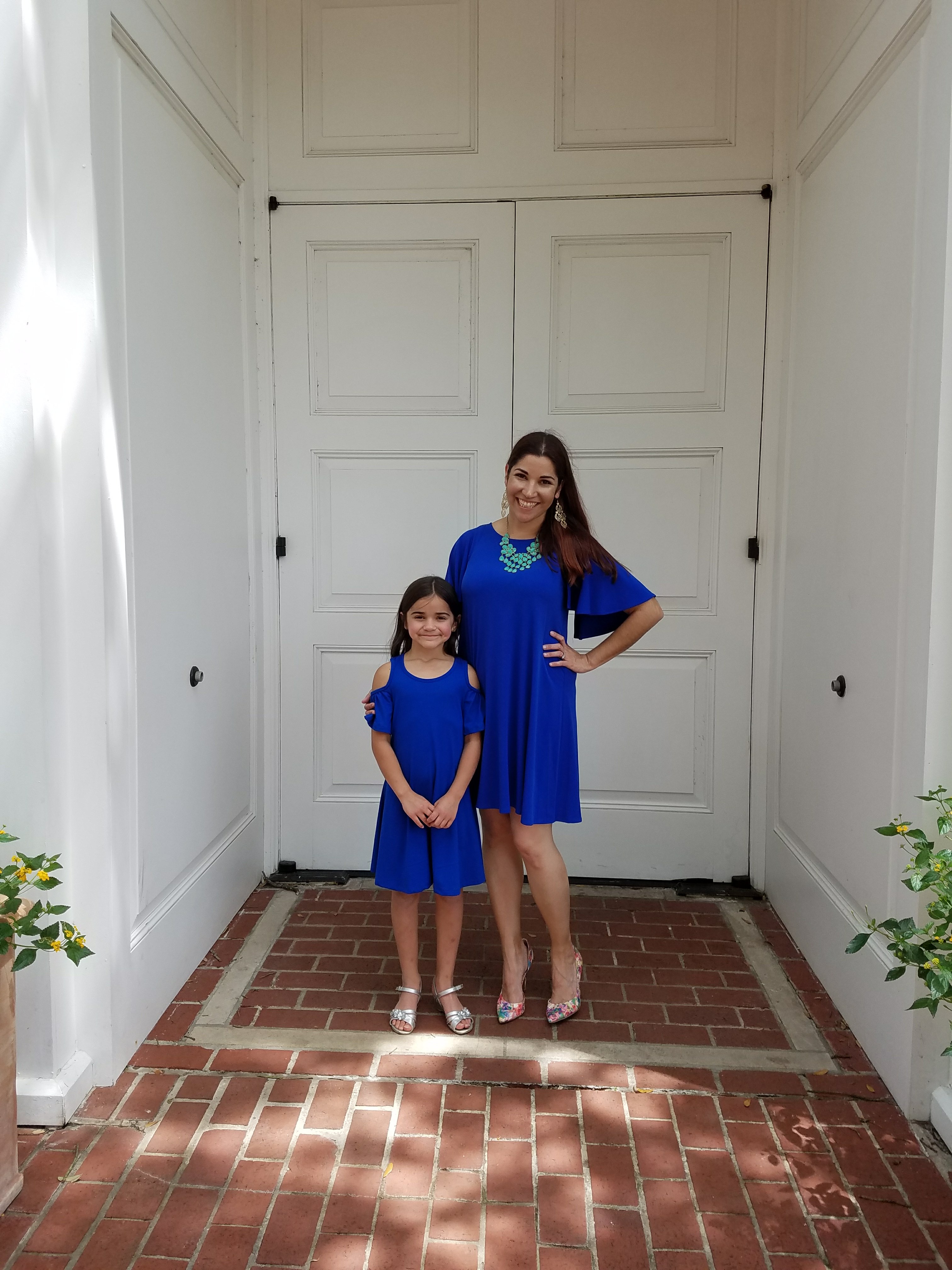 There's definitely a girly side to her — she loves wearing "heel shoes" like her silver sandals and black wedges (SO CUTE!)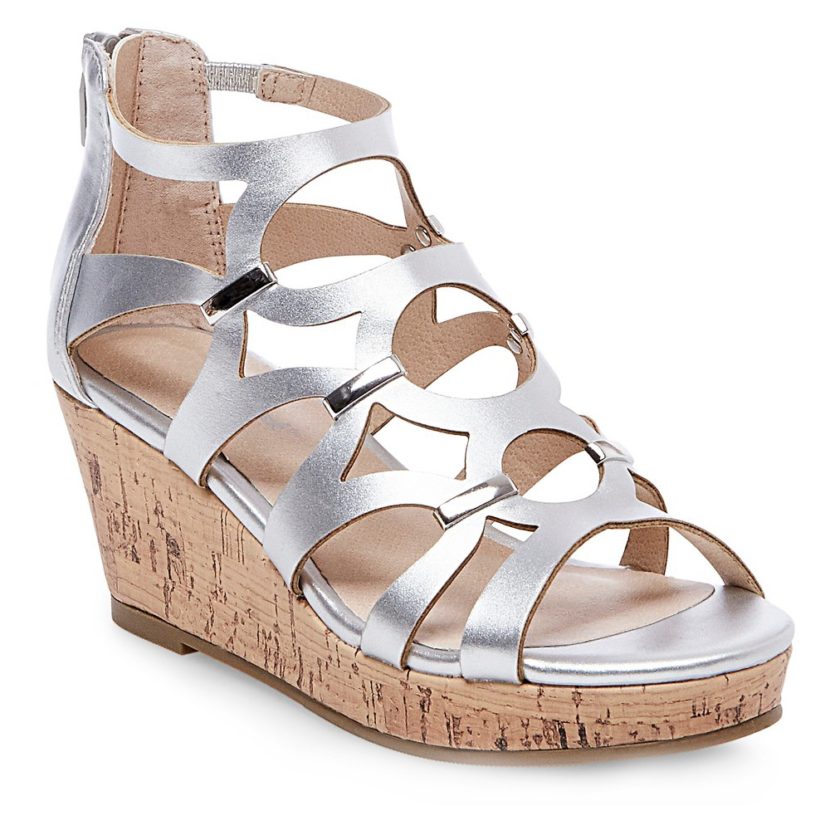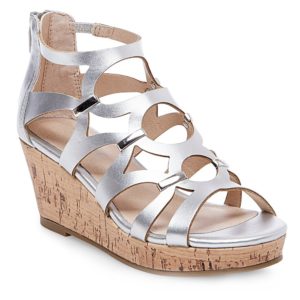 She begged us to get her ears pierced because she wanted to wear earrings, and the dangly ones are her favorites.
So she might not be a huge fan of dresses, but she's definitely got a girly edge. And I'll admit, I have one, too. You know, on special occasions. 😉
Regardless, I was a bit surprised when she saw me getting all dolled up for my friend's Blogiversary and asked if she could come, too!
Mom, can I come to your Blogger Event?
At first I thought, no, it's a blogger event and I don't think there'll be kids.
But then I thought, well, it's at a Charming Charlie, we could come in and browse, celebrate the Blogiversary and I think it will be fine.
And then I told her she'd have to wear a dress. Um, she did not even hesitate!
She put on a cute headband, her cute black wedge "heel shoes" and was ready to go!
And I thought, well, we don't have to stay long. We'll go in, celebrate a while and go home.
Boy, was I wrong! Haha!
You should have seen her excitement as we arrived and she saw that she was about to walk in to a PARTY!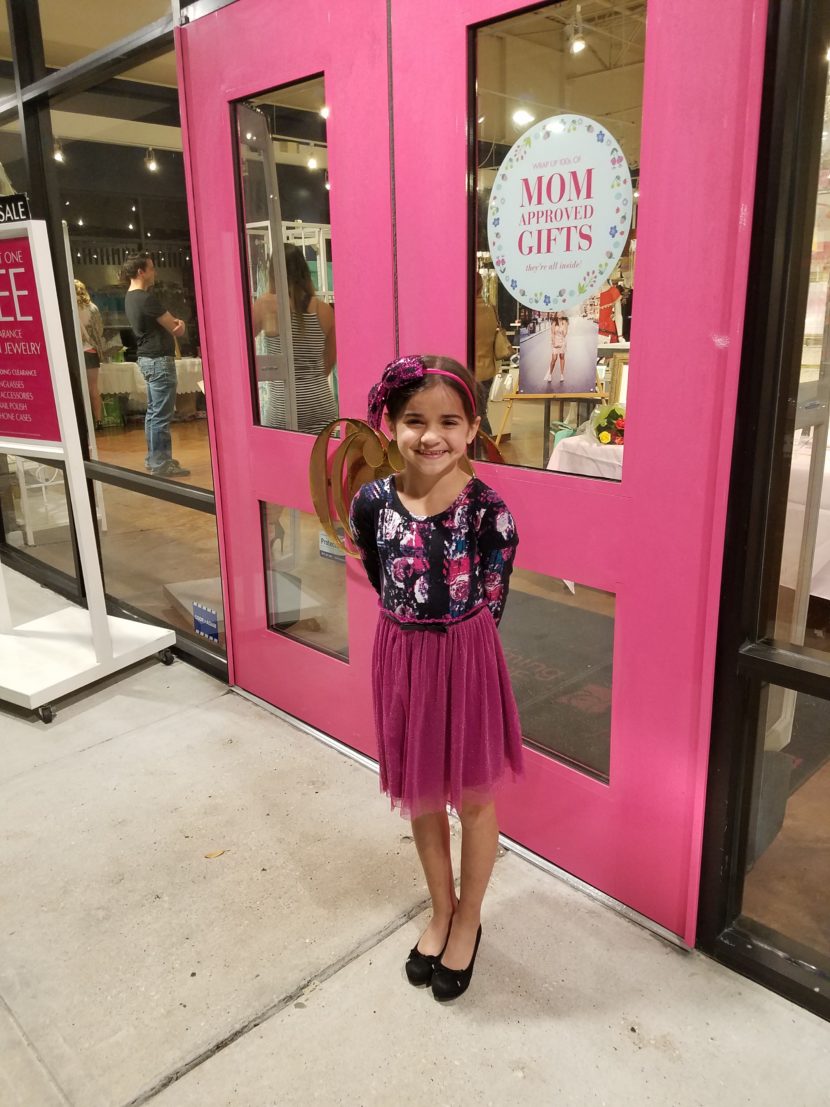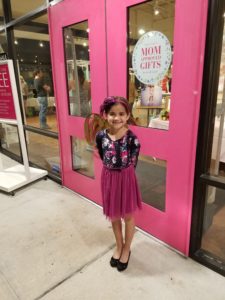 Amanda went ALL OUT with her Blogiversary party! She had balloons by Tutus and Bowties Events set up by a photo booth that led to some super cute photos!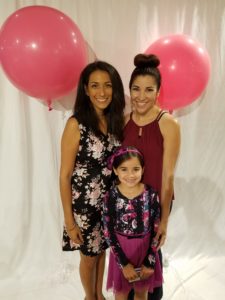 What a Happy Blogiversary! We really had a Blogiversary blast!
It's not a blogiversary party without food, and Amanda pulled out all the stops! She had Pollo Tropical "tropichops" bowls, and desserts provided by Wink by Erica. I may have had more than one mini chocolate cupcake. They were mini, but delicious!
There were awesome giveaways, wonderful sponsors and a portion of the proceeds went to benefit local charity, Addi's Faith Foundation. As we browsed the store, we ran into other local bloggers who were there to celebrate. The group even included some hubbies (woohoo!) and at least another daughter that I saw (yay!)

By the end of the evening, we were partied out and so happy!
We took pictures, ate yummy food, and at some point we all broke out into a conga line/fashion show! My hubby and son dropped by to pick us up and, being the amazing guy he is, encouraged me to get some cute rose gold earrings (my new obsession).
By the end of this fun night, my daughter had fallen in a love with a hat, adorable heart sunnies and a super cute pink elephant purse. Of course, we had to buy the purse! Needless to say, she had a blast.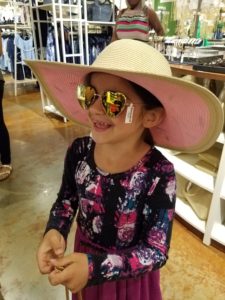 And as we got ready to leave, she looked at me and said, "Mom, can we do this every Saturday?"
How could I say no? I actually told her I'd love to … and even if we don't make it every Saturday, there's no doubt:
A new mother daughter tradition is born.
And I can't wait to keep this one up. My sweet girl is getting me to go shopping … and actually enjoy it more than I have in my life!
Laughing (and shopping) thru life,
Coppelia