*You may find affiliate links for things I love! At no extra cost to you, I could receive a small commission if you click and buy thru my links. Thanks! ~Coppelia
I'm one of those people who LOVES to celebrate their BIRTHDAY!!!! I think everyone should go all out, not just on their day, but all birthday month long! We only get so many, so let's make the BEST of each one! And to celebrate, I put together this list of 41 things I'm thankful for on my birthday!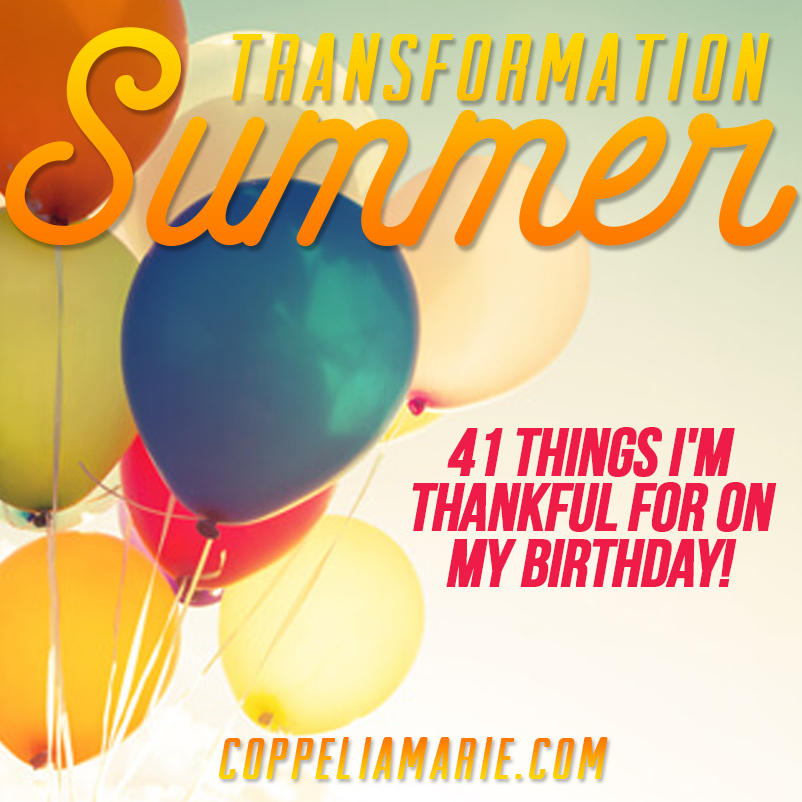 Just don't ask why I chose the number 41. It's totally random and unrelated to my birthday … maybe. Ha!
So here we go!
41 Things I'm Thankful for on my Birthday!
I gotta start with God and my family!
Jesus. I'm thankful to God for another day of life and for each of the things on this list. If I can be thankful for any and all of it, it's because of Him.
My Hubby Adam <3 I am thankful for the love of my life today and every day. He is the husband and father of my dreams and prayers. I can't believe how blessed I am to have him! 
My son Christopher. I'm thankful for the JOY he brings me every day. And I'm thankful for the blessing of being his mom and watching him grow and develop his athletic abilities, leadership skills, faith in Jesus and so much more! 
My daughter Allyson. I'm thankful that God gave me a spunky princess as a daughter! It's a JOY to see her treat others with her tender, giving heart. And I love watching her grow and bloom into a beautiful independent full-of-potential girl. 

And of course, my extended family!

My parents Camille and Emilio (who have been a HUGE help since moving from Dallas to Houston, closer to us!) 

My sister Emille and her family (Randy, Brandon and Riley!) I love and MISS you guys so much! This whole "living in different states thing" doesn't work. Just save me a place in Orlando so we can ALL live closer to Disney! Lol!

Christopher, Riley, Allyson & Brandon

This was with my mom, Camille and sister Emille, waiting for the monorail at the Walt Disney World parks and resorts!

My brother in Japan, Emilio. TAT!!! I miss you so much!!! I love that we have SO much in common. I'm thankful for your friendship, your unconditional love to your older sister and our long emails (you know, when we write them every blue moon or so). Hope to see you soon!!!
My in-laws, Nayda y Willo. (Sus oraciones y apoyo han sido de gran bendición para nosotros y nuestros hijos tienen la aún mayor bendición de tenerlos como abuelos.) 

Abuela Nayda y Abuelo Willo with Christopher. This was his 1st Christmas! Love the JOY in this pic!

I'm thankful for so many FRIENDS!

Mel & Clyde – y'all! We've been friends since Puerto Rico and I LOVE that we're connecting again, even though Austin is TOO FAR! Let's keep working on our dreams!

My friend Mel and I have known each other for YEARS! We were friends in Puerto Rico, neighborrs in California and now we both ended up in Texas!

The Boutwells. What can I say? You have been great friends. You have inspired and blessed us. You have been with us thru hard times and have shared SO much laughter and fun! I'm mega thankful for y'all.
The Chicagos. What can I say about you guys, too? It's so obvious that God connected your paths with my sister in Nashville, and now with us in Houston. I'm thankful for what feels like an instant friendship and thankful for good times to come
My FitFam (shoutout to Logan, Jennifer, Lachelle and the team at Loganitus Training. Love y'all and I'm super thankful for you! 
My church family at Second Baptist: I don't know how we would've survived and made it through the past 12 months, including brain tumor surgery, job changes and more, without so much love and support. You have been Jesus to our family. Love y'all so much!

I'm also thankful for Music!

I'm SO thankful for opportunities to sing in church, visit other churches and lead worship! Just this month, I had 2 opportunities to help with special projects and they were true early birthday gifts!  Chris Rocha and John Stanley – thank you guys for the gift it was to be in studios, recording and doing what I LOVE!!!

Dream come true! Recording with Chris Rocha, Chris and Moises for a special project that's coming soon!

Another dream come true! Recording in another studio for another special project: my church, Second Baptist's VBS album! YAY!

Worship in English! Since I said "music" I'm also thankful for the amazing singers and musicians that I get to worship with every weekend at our church! I'll start with Joel and Josh and the Saturday and Sunday services that I love being a part of!

Do I really get to sing here most weekends? Wow! Thank you, Lord, for such amazing gifts and blessings!

Worship en Español! I'm also thankful for Denis, Amaya, Liz, and the Spanish band and choir at Second en Español! They make every Sunday amazing! 

Blogging!

Y'all, I LOVE blogging! And the next few numbers are dedicated to some pretty awesome blogging friends and groups. Thank you all for making me a better mom, wife and friend.

Blog Elevated – Lisa & Bobbie, thanks for ALL your encouragement and support on my blogging journey, even before I launched my own blog! Love you both!
Houston Latina Bloggers – Connie, Danelia, Jihane, Ari and ALL my beautiful latina bloggers that I've met — y'all have blessed me and given me friendships I didn't know I needed! Love you all so much! And I love being on this blogging journey with you!

I'm having a BLAST with this June Birthday Giveaway, put together by the founder of the Houston Latina Bloggers, Connie Gomez. So honored to join this beautiful group!

I'm So Blogging This – Brittany and ALL the ladies, thank you for welcoming this newbie blogger and letting me learn from the BEST! Brittany, your invitation to the Blogiversary at Kendra Scott and the Holiday Brunch at Brennans made me feel SO thankful to God for confirming that He's put the right people in my life to guide me on this journey. Thank you! Love you!

I have loved being part of the I'm So Blogging This community, especially thru fun Instagram chats like the Tuesday Coffee Chat with Brittany Ashmore from The Ashmores Blog!

And more blogging!

Create If Writing – Kirsten, you know you're one of my Fairy Blogmothers and I'm SO thankful that God connected us as I was launching my blog. I keep learning so much from you, thru your podcasts and FB posts … thank you!

Houston on the Cheap – Vicki, I can't tell you how THANKFUL I am for your friendship! I thank God we met thru KSBJ and your Houston on the Cheap segment. You invited me to my 1st blogging conference. You introduced me to a whole new world and amazing people who have become friends. I hope we can grab some more nutella hot chocolate and crepes again soon! Or another Cirque show!

Coppelia with her hubby Adam, Houston on the Cheap's Vicki Powers and her daughter at Cirque du Soleil's opening night for their show Kurios in Houston.

Beauty thru Imperfection – Paula Rollo, I'm SO thankful for your friendship and mentoring! I'm still slowly, snail-like, finishing my affiliate Master Class homework… Ha! But thanks for pushing, encouraging, inspiring and reminding me that I can do this!
The Positive Mom – Elayna Fernández. The day I met you was surreal. We were all hanging out in the hallway for a Prudential blogger event. I couldn't believe I was part of a group of bloggers that included the famous Positive Mom! Since then, your Facebook and Tweet replies have always been affirming. And I was tickled to run into you at a Disney Social Media Moms event with our friend Jess!

I loved hanging out with my blogger friends Elayna (The Positive Mom) and Jess (Unprocessed Jess) at the Disney Social Media Moms On the Road Houston event in May. Amazing!

A few more things!

I'm thankful for money expert Dave Ramsey. (Yep, he's on my list, because I'm incredibly thankful for Financial Peace University!) My hubby and I are managing money better than ever, thanks to Dave. Hope to do that Debt Free scream soon! 

Business Boutique and Christy Wright. Some people come into your life at just the right time. I found Christy and her Business Boutique podcast thru Dave Ramsey. When I hear Christy, I feel like she knows me. She knows the mommy guilt struggle. She knows the roadblocks to business success. But she shares tips to get past those things to accomplishing what God has called me to do. #Thankful

Christy Wright and Dave Ramsey at a Business Boutique event in San Antonio.

Disney Social Media Moms!!! Lisa, Sarah D, and all the DSMMC ladies, I'm SO thankful for each of you!!! From the pixie dusted email invitation to the Houston event in May, to the "are you Disney Bounding" question when I arrived (why, yes, I WAS Disney Bounding Snow White!) Y'all brought me a little closer to Disney and for that I'm thankful.

Coppelia and her blogger friends Amanda, Elayna, Val and Sarah at the Disney Social Media Moms Celebration in Houston!

Radio & TV

I'm thankful for my NGEN Radio family! NGEN wouldn't be here without KSBJ. Heck, I wouldn't be in Houston without KSBJ! So I'm very thankful to God for bringing me here to serve alongside some pretty cool radio people … first on KSBJ and now on NGEN! I'm excited to keep shining the love and light of Jesus in Hoston thru radio! 

My TV Family! I love the team at TBN's Houston affiliate, KETH. From Sandy to Kassandra, Greta and all the team, I love y'all and thank you for always encouraging me! I didn't think I'd be good "on TV", but you affirm and build me up every time. I'm thankful to y'all for believing in me!

And some more people, pets and things I'm thankful for!

For this one, #30, I'm thankful for my two beautiful hairstylists, Jamie and Jackie. They make me look beautiful, you know, when I actually have time to go get my hair! Lol

Health. I'm thankful for my family's health, especially after the past year. Thank you, Lord, for SO many answers to prayer.
Colin, our Guinea Pig! Haha! I'm thankful because he's brought a lot of laughter and fun to our family! It's been really cute to see how my kids have taken such responsibility and care for Colin Bobby. Love this!  
The Kingwood Library. The staff is always super friendly, and it's a beautiful place to get my book fix and let the kids continue to grow in their love of reading!
Torchy's Tacos. I'm addicted. And I'm thankful I don't have to drive an hour anymore because they opened a store in Kingwood! Ha! 
Probiotics. Y'all, I'm thankful for how probiotics have improved my life. My tummy feels thankful. Yes, this one followed the tacos on purpose…lol!
Houston. I LOVE H-Town! It's an amazing, huge and fun city that I love calling home!
City Centre. I'm thankful that it's a perfect place to hang out, enjoy great food, walk around and shop! And it's been the setting for fantastic dates with my love, Adam, and quality time with friends! Jeff Anderson, Joel and the worship team from church; Crystal Lee and her hubby, Vicki and more!

This was the beginning of a wonderful afternoon with my friend Crystal Lee Williams and her hubby who joined us later. Crystal is on a blogging journey herself and I can hardly wait to see where God will lead her!

Charming Charlie. I'm thankful to my friend Amanda for inviting me to her blogiversary party at the store that has become very special to me and my daughter. We had so much fun shopping and partying, that my daughter said can we do this every week! I've never been one to love shopping, but this kind of broke down my defenses a little bit and gave me a new tradition to enjoy with my girl.

We had a blast at my friend Amanda's 3rd Blogiversary at Charming Charlie in Atascocita

These next 2 are organizations that are near and dear to my heart.

The Salvation Army. I'm thankful to my friend Sybil for inviting me to be a part of a special Facebook Live project with the Salvation Army. It was the perfect combination of social media and "doing the most good". I loved it! And I'm thankful for a continuing friendship with you, Sybil, and relationship with the Salvation Army.

I had the best time with my friend Sybil, visiting different Salvation Army Greater Houston locations during National Salvation Army week. It was fun to go LIVE during Facebook takeovers!

Behind the Walls prison ministry. I'm thankful for the 20+ years I have been able to do what I love — singing and sharing God's love with inmates!  I'm also thankful that I get to see my sister Emille and other friends at many events! Here, I'm with our friend Jenn Harris. We are not allowed to take photos inside the prison, so we just took a selfie outside Magnolia on our way back from a prison event!

Yes, we loved Magnolia! No, we didn't run into Chip and Joana Gaines (but that would have been awesome!)
And I think my favorite part of this was that by the end of reading the list to my husband, his response was laughing at my crazy list! I love him! Haha!
Laughing and thankful for another year of life,
Coppelia