*You may find affiliate links for things I love! At no extra cost to you, I could receive a small commission if you click and buy thru my links. Thanks! ~Coppelia
You're busy, but you want to blog, right? Me, too! You came to the right place! I put together this daily blog checklist to help us out when we're busy working full time, momming full time and doing it ALL! It's the EASIEST Daily Blog Checklist and I'm sharing more about it here. Read on and grab your copy below!
Even if you're simply too busy to blog right now (welcome to my life), this is the Easiest Daily Blog Checklist to help us get the job done with little time! It should help you and me both to keep cranking out content on our blogs, stay connected with our community, continue to work on ways to grow it as a business and more!
Since we're all busy, and ain't nobody got time for that, I'm gonna keep this short and sweet. I created a FREE Daily Blog Checklist that you can download and use every day to help you blog.
It's essentially, step by step, how I try to squeeze blogging into my busy, full time working mom life (and how I made my first $1,000 blogging!)
A lot of success comes from doing little things every day that bring us closer to our big goals. You don't have to do it all. Just do one little thing. That's where the checklist comes in, to help you figure out with which little thing to start.
For those days when you're exhausted and barely have time to blog, section 1 on the checklist breaks down simple, quick things you can do, like write and share a blog post. (I told you — short & sweet!)
Often, when we do those "little things" consistently and well, we end up with bigger and better things. I was surprised when I started making money blogging, especially when I made my first $1,000 dollars blogging! The key is to get started.
START HERE!
If you're ready to download the FREE Daily Blog Checklist, just scroll down and sign up!
But if you're curious like Alice in Wonderland (same!), I'm sharing a few more details and tips here below. Read on!
What's in the Easiest Daily Blog Checklist?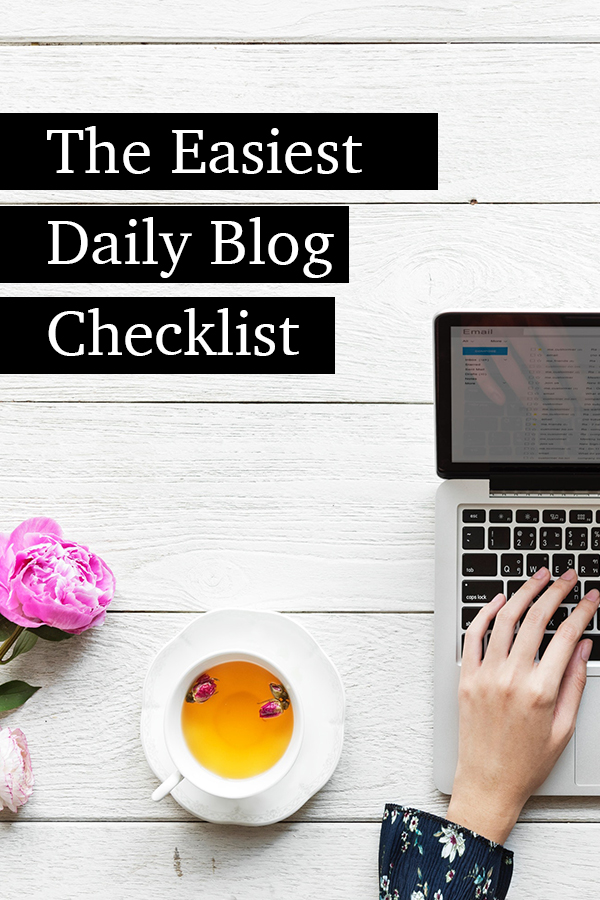 First off, it's FREE! It's perfect if you're busy, maybe working full time, momming full time and trying to blog on the side. It's divided in three main sections:
If you have ZERO to VERY LITTLE time to blog.
Got a LITTLE MORE time to blog? Jump to Section 2!
You have EXTRA time to blog? SWEET! Section 3 it is!
The first section is ideal for those nights when we are on the way to bed and then remember we really WANT to blog. It shouldn't take you too long to get through section one.
That second section kicks in when you finish section one and find you got your second wind (yay!) It also works for those days when you actually have a little extra time on your hands to work on your blog (best days EVER!)
Finally, that third section is extra, perfect for maintenance, planning ahead, tweaking your site, etc. I'd also add listening to podcasts, checking out webinars, watching tutorial videos on YouTube or reading to learn more about blogging. A lot of information is FREE!
Blogging Goals & Dreams
I hope this FREE Daily Blog Checklist helps you spend a little more time blogging. At least for me, I know that when I break things down into doable sections, it motivates me to get the job started.
And you know what they say "The secret of getting ahead is getting started." (I googled it and apparently it was Mark Twain who said that. Cool!)
If you're ready to GET STARTED, just enter your email below and I'll send you the FREE Daily Blog CHECKLIST!
Please feel free to post in the comments if you have any questions.
If you have a desire, a fire in your heart, to BLOG, I say go for it! It will be an honor if I'm able to help you along the journey.
Laughing (and blogging) thru life,
Coppelia