*You may find affiliate links for things I love! At no extra cost to you, I could receive a small commission if you click and buy thru my links. Thanks! ~Coppelia
You know your marriage is off to a good start when it's not just "Happily Ever After," but Buzz Lightyear declares it's "To Infinity and Beyond!" This is a celebration of marriage, fourteen amazing and miraculous years together, and God's faithfulness! How could you not get excited and hopeful about the future?! Read on for more of our (not so intergalactic, but very romantic) journey!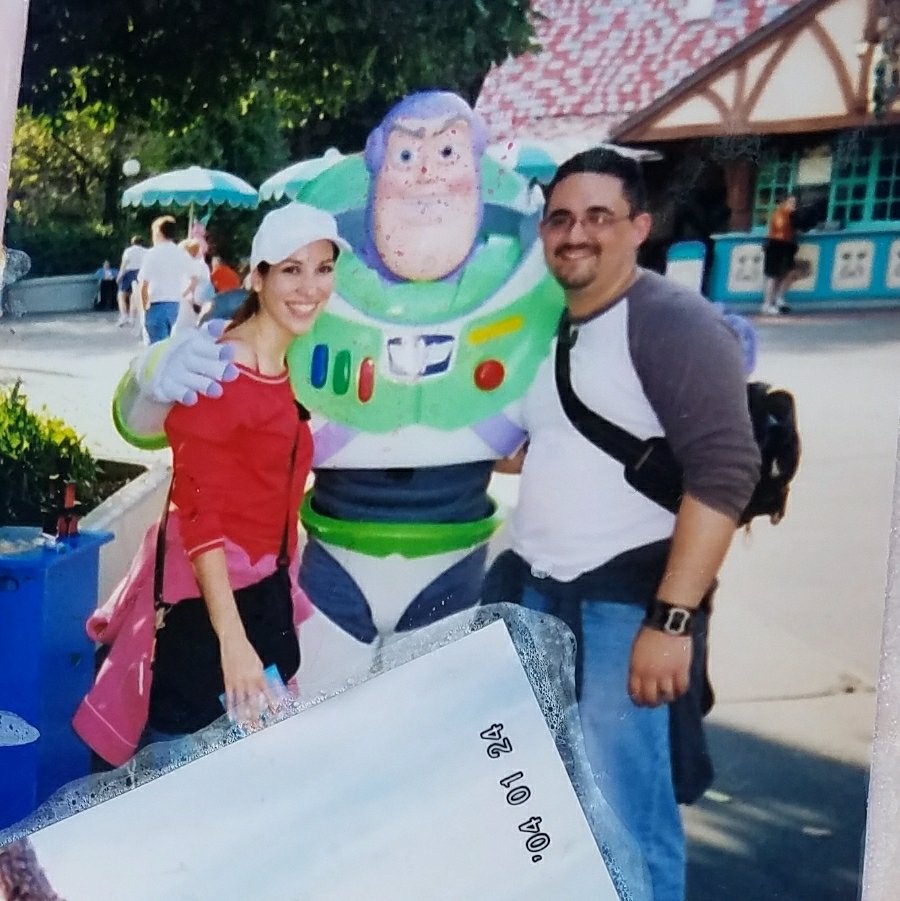 I found my knight in shining (spaceship-style) armor!
No, I'm not talking about Buzz Lightyear, I'm talking about the guy next to him in the photo! HA! My ACTUAL knight in shining armor: my hubby Adam! I am thankful beyond words that we're celebrating our 14th Anniversary! I truly feel like I married the most amazing man on the planet (or the galaxy!)
It doesn't seem like it's enough to just thank God with all my heart for the gift my husband is to me. What I feel is gratitude multiplied many times over!
On a day like today, 14 years ago, we started this AMAZING journey, trusting God together.
Our wedding day was a dream
We said "I Do" in a beautiful cathedral in San Juan, Puerto Rico (in classic Sound of Music style!) My childhood wedding dream had come true!
We cried as my brother and sister sang The Prayer (with the bridge in ITALIAN! They KILLED IT!!!!)
An amazing group of pastor friends from different churches prayed over us and blessed our marriage (I'll never forget that special moment in our ceremony).
And then we rode in my dream white limo, wearing my storybook sparkly wedding gown, with my super handsome dream guy (who was crazy enough to get hitched to me! Ha!) We took photos in Old San Juan, overlooking the ocean, right before the most fun reception EVER!!!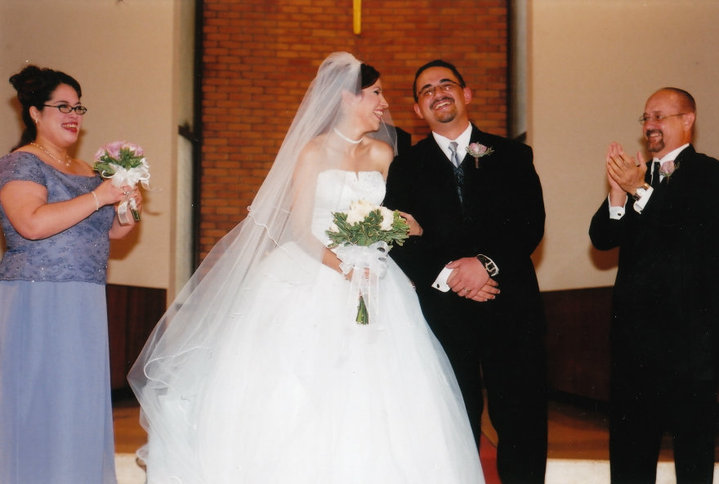 The Honeymoon of my Dreams!
The honeymoon got off to a perfect start at the coolest boutique hotel on the beach, The Water Club (which was a gift from one of the pastors and a friend!) What a dream!
And THEN, we ended up on the same flight as my sis (lol!) We pretty much laughed all the way from San Juan to Orlando (and if you know us, you know we were all literally laughing and having a BLAST!)
Now, this is the part where things could've gone a different direction.
I'm a DIS-NEY FREAK! I love it!!!! But Adam had never been to Disney World. He could've hated it. Or maybe he could've chosen to not go on Space Mountain and declared he didn't like roller coasters *gasp*. What if he rolled his eyes at the happiest place on earth??? *shudder*
But then THIS happened! It was our 1st full official day as husband and wife. We walked in to the Magic Kingdom, stepped onto Main Street U.S.A, and got stopped in our tracks!
I was wearing my white "bride" cap, and he had the black "groom" one. We walked in RIGHT as the parade floated by, with snow globe floats that featured the Disney princesses and their prince charmings! The timing was absolutely perfect!
This was God, giving me pretty much every desire of my heart, right at that very moment!
There was Belle with the Beast!
Ariel and Eric!
Aurora and Phillip!
Jasmine and Aladdin!
Coppelia and Adam! 😉
My eyes filled with tears then (and I'm getting teary eyed now!) I realized that I was the princess who had finally found her prince. ❤️ (Yep, I'm officially crying now!)
And here's that Buzz Lightyear Story!
My worries about Adam hating Disney quickly disappeared when, at his request, we stopped to buy a little blue autograph book and stood in line to get Buzz Lightyear's signature! LOL! (That's the story that goes with the photo above!)
I know it sounds silly, but this was just more confirmation that I really married the right guy!
My favorite ride was his first roller coaster ever: Space Mountain!!! And he LOVED it!!!
We kept seeing our wedding colors EVERYWHERE around the parks (red and purple!)
And that 1st night at the fireworks show, we watched a relatively new one at the time called "Wishes" (Disney fam, y'all feel me on this one.)
Cinderella's Castle confirmed that … yes, in fact, the dreams that I wished had come true!
As I looked up at Cinderella's castle, I was nestled in the embrace of the love of my life, watching fireworks light up the sky. It was like the most amazing celebration of our love. And I heard:
"Star light, star bright,
first star I see tonight,
I wish I may, I wish I might,
have the wish I wish tonight
We'll make a wish and do as dreamers do
and all our wishes will come true."
Fourteen years later, those wishes are still coming true. Adam, I love you more every day. ♥️
I thank God with all my heart for ALL of this.
And I thank God with all my heart for you!
We've had fourteen years to have and to hold (despacito… lol!)
For better, for worse (hey, PMS and parenting ain't easy!)
For richer, for poorer (Dave Ramsey's been helping us out on this one!)
In sickness and in health (thank You, Jesus, for SO much miraculous healing!)
To love and to cherish, till death do us part (although I wish it was forever.)
I pray that these are only the first 14 years of a long, amazing life with you, Babe!
God has my whole heart, but after Him, it's all for you!
I love you, Babe, Adam Acevedo!!!
Laughing (and loving you) through life,
Coppe