*You may find affiliate links for things I love! At no extra cost to you, I could receive a small commission if you click and buy thru my links. Thanks! ~Coppelia
It made me feel giddy, like when I registered for wedding gifts! The experience is like this: you go through the store, checking out all the appliances and home decor and dreaming of how you'll use them.
You pick up the mint blenders and purple mixers and dream of all the things you'll make in your kitchen. You check out the fun and colorful watermelon knife and pink flamingo serving dishes and start making a mental list of who you'll invite to the house warming party!
We got to feel that kind of excitement at this sponsored by Macy's Home Shopping Party with the Houston Latina Bloggers!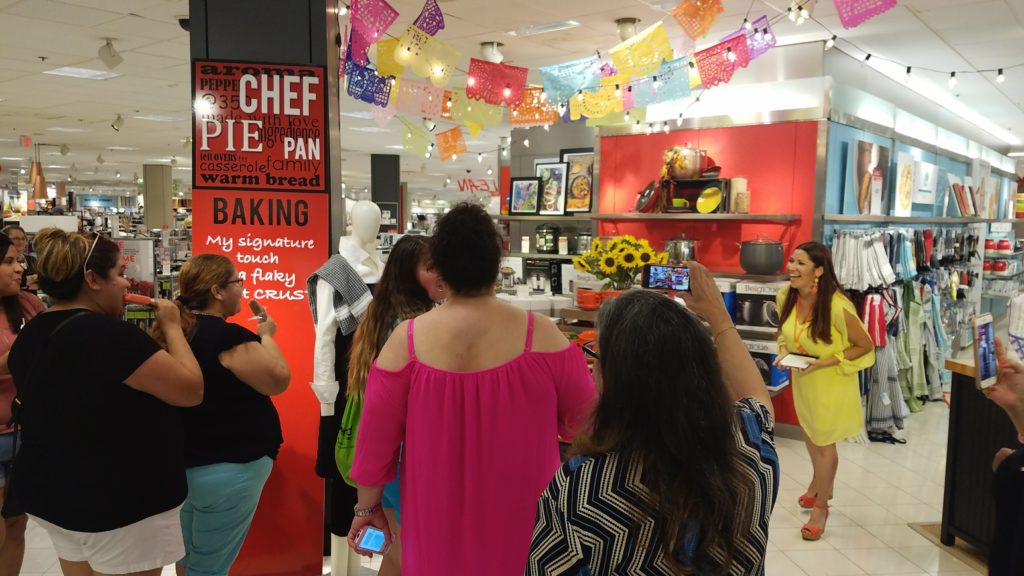 My friend and fellow latina blogger, Danelia arrived and we quickly hit it off with DJ Candy and the Macy's staff. Off the bat, we knew that the live music would be a hit, especially when DJ Candy started the set with "Despacito!" Haha!
Once our first crowd gathered, we started our Macy's Home Shopping Party tour, showcasing some really fun products that make life, especially for busy families, a little easier, more beautiful and definitely fun!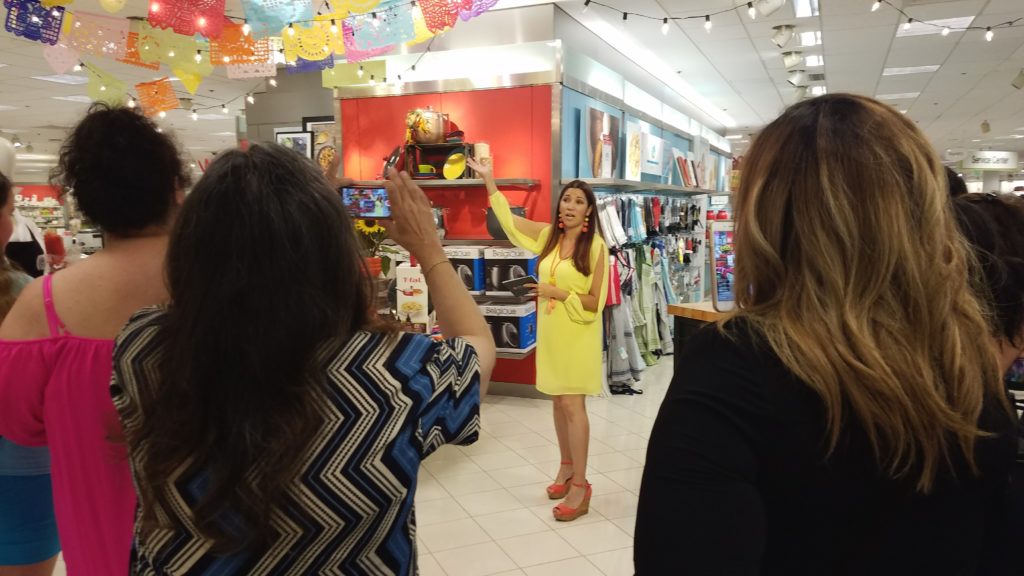 I love that Macy's had a little Fiesta decorating on, which made it feel even more fun!
We started the tour with some fun kitchen appliances and tools that make cooking more efficient, so you can feed your family and get everything done on your to do list. Win win! This Zojirushi rice cooker looked like a bigger version than the one my mom used when we were growing up in Puerto Rico.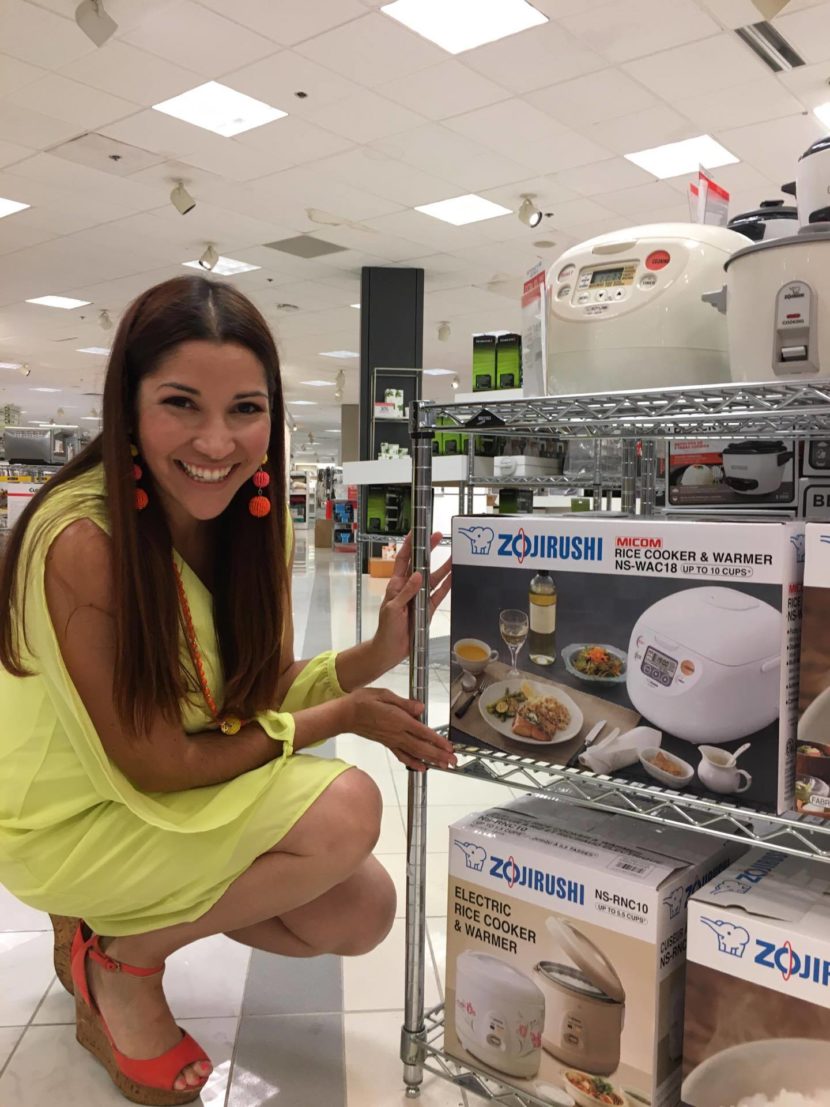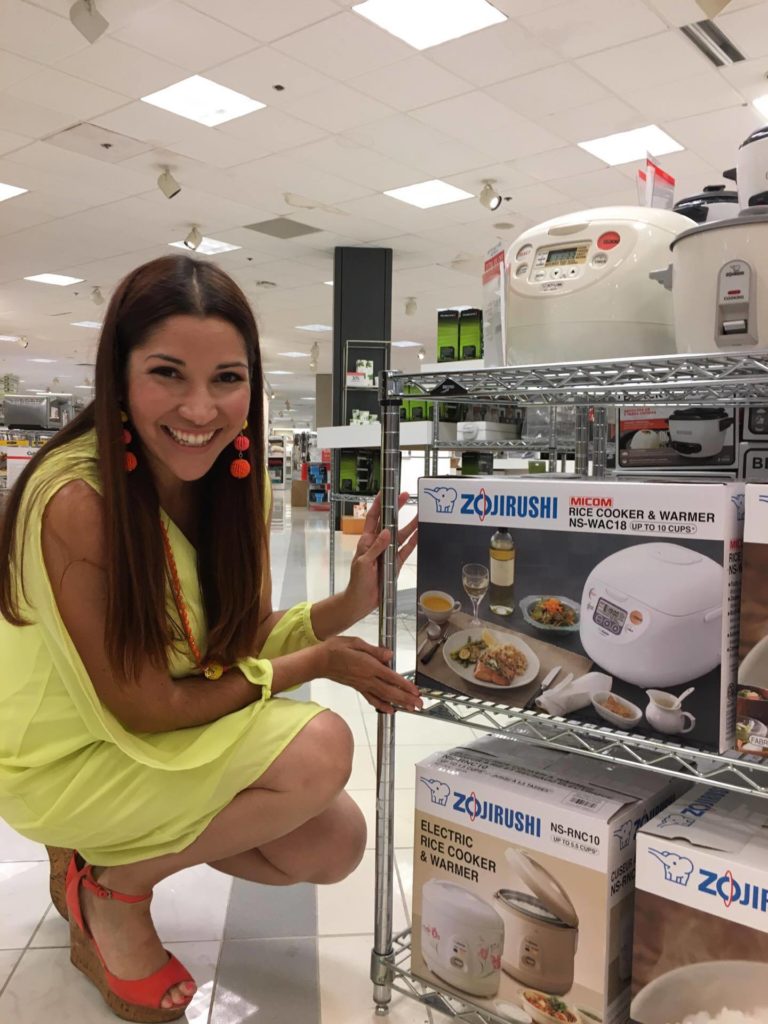 Show me more Macy's Home Shopping Party fun!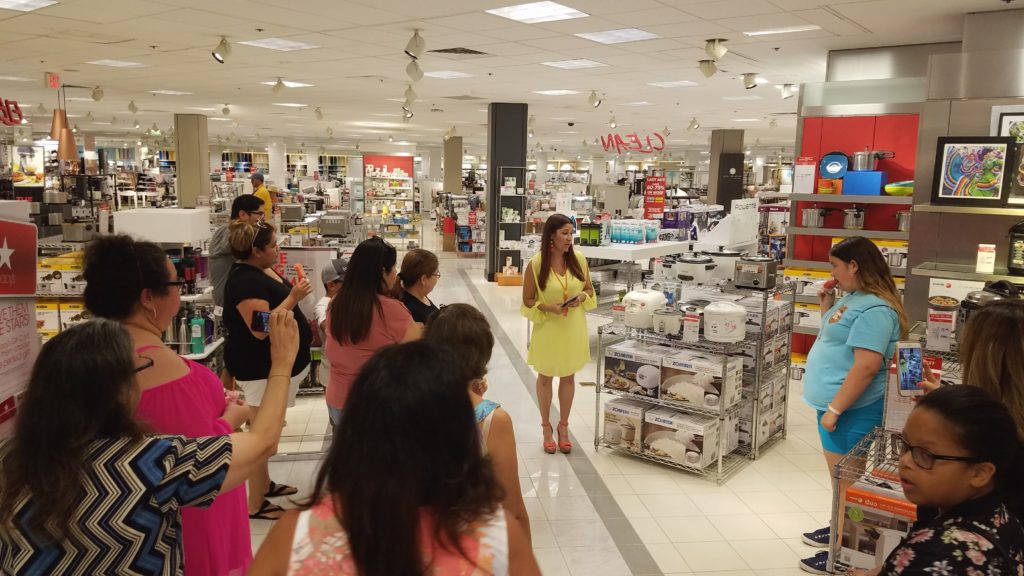 We also enjoyed checking out other awesome kitchen products like KitchenAid, Ninja Blenders, Belgique and T-fal products.
It really was like the fun and excitement of putting together a wedding gift registry.
Who says brides get all the fun? I've been married to my love Adam for 13 going 14 years and this was just as FUN, walking around, looking at all the cooking gadgets, and dreaming up images of fun times in the kitchen!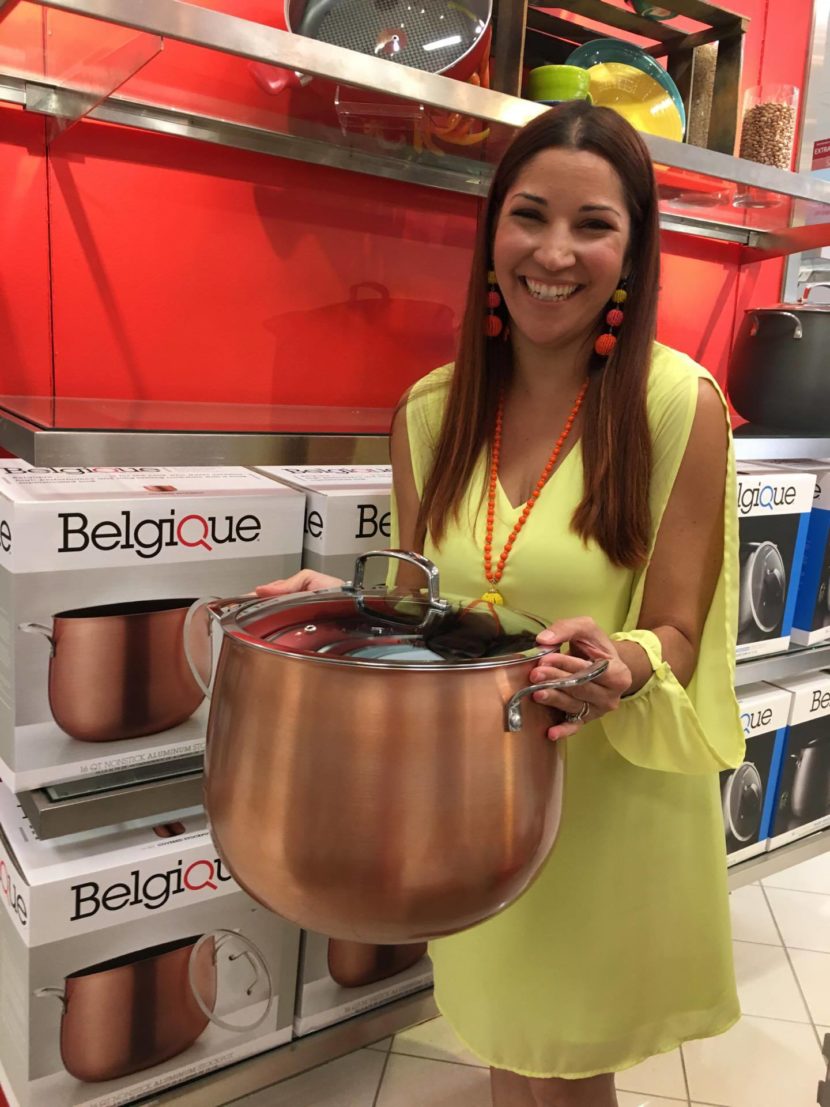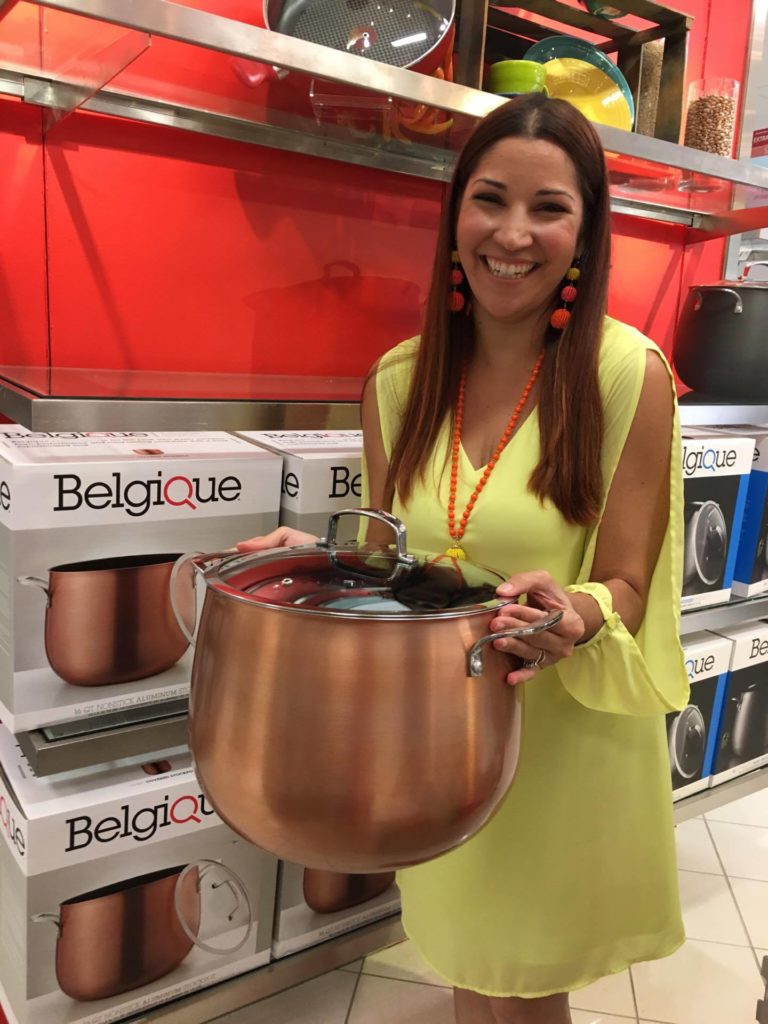 Macy's kitchen area was so fun to walk around and really see all the different products, to make sure it's something you really like and want in your home. Those colorful flags, sunflowers and hanging white lights made it so festive! That red wall reminded me of our first apartment when my hubby and I got married in Puerto Rico. It was a project to get just the right shade, but totally worth the effort!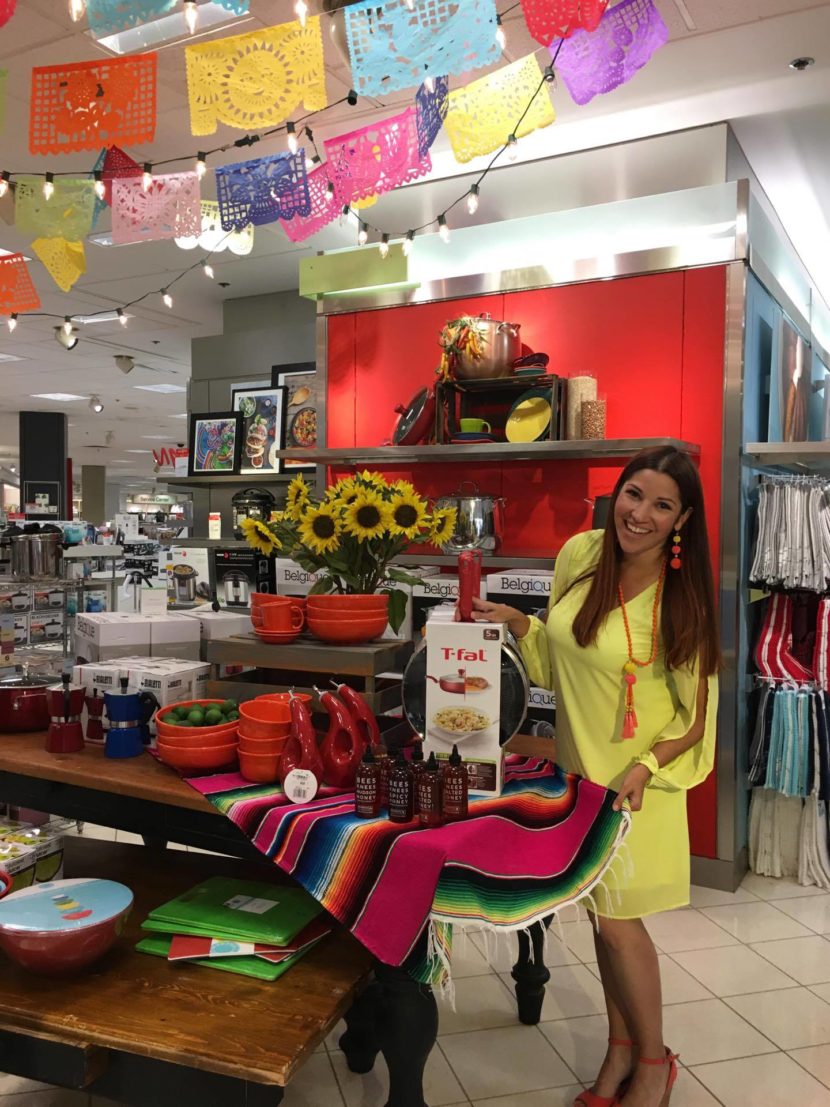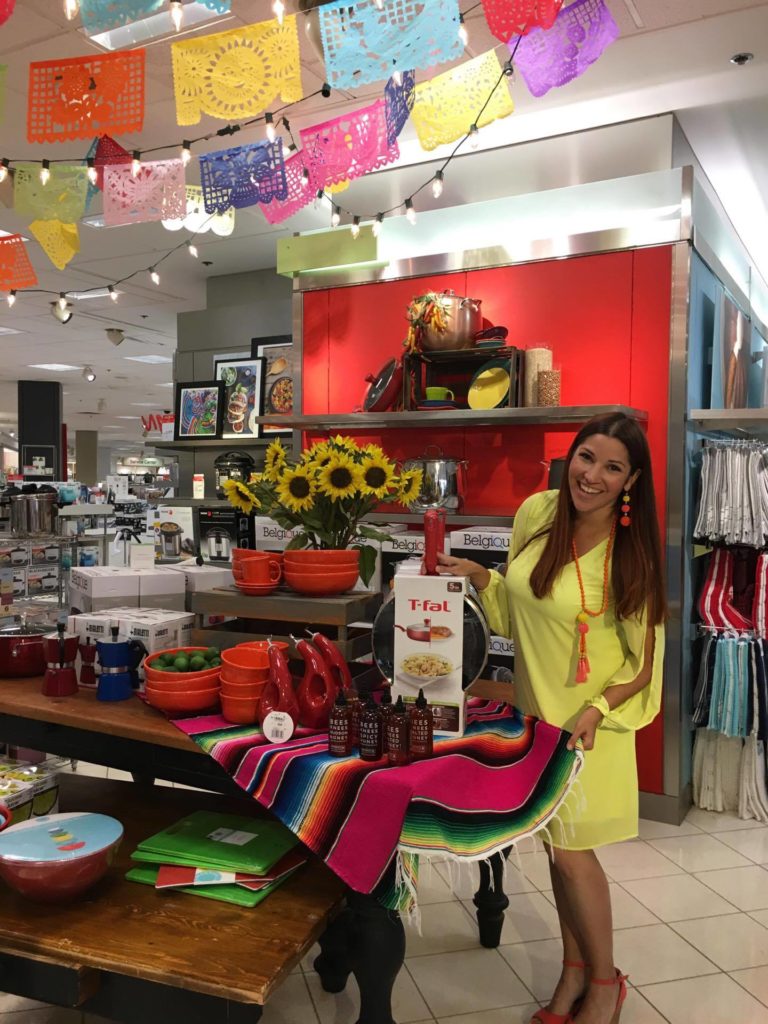 What about tools for Healthy Living?
We continued the Home Shopping Party at Macy's, checking out some of the kitchen tools that help us make healthier snacks and meals, like the Ninja blender!
That was fun! Haha! We loved the fact that the locking lid helps prevent "kitchen spills and accidents." We all said "thank you" for that!
Our next stop on the Macy's Home Shopping Party tour reminded me of my friend (and amazing baker) Stacey! She can make amazing "Food Network" show quality cakes with her mixer. And all these attachments turn the KitchenAid mixer into whatever you need in your kitchen. So cool!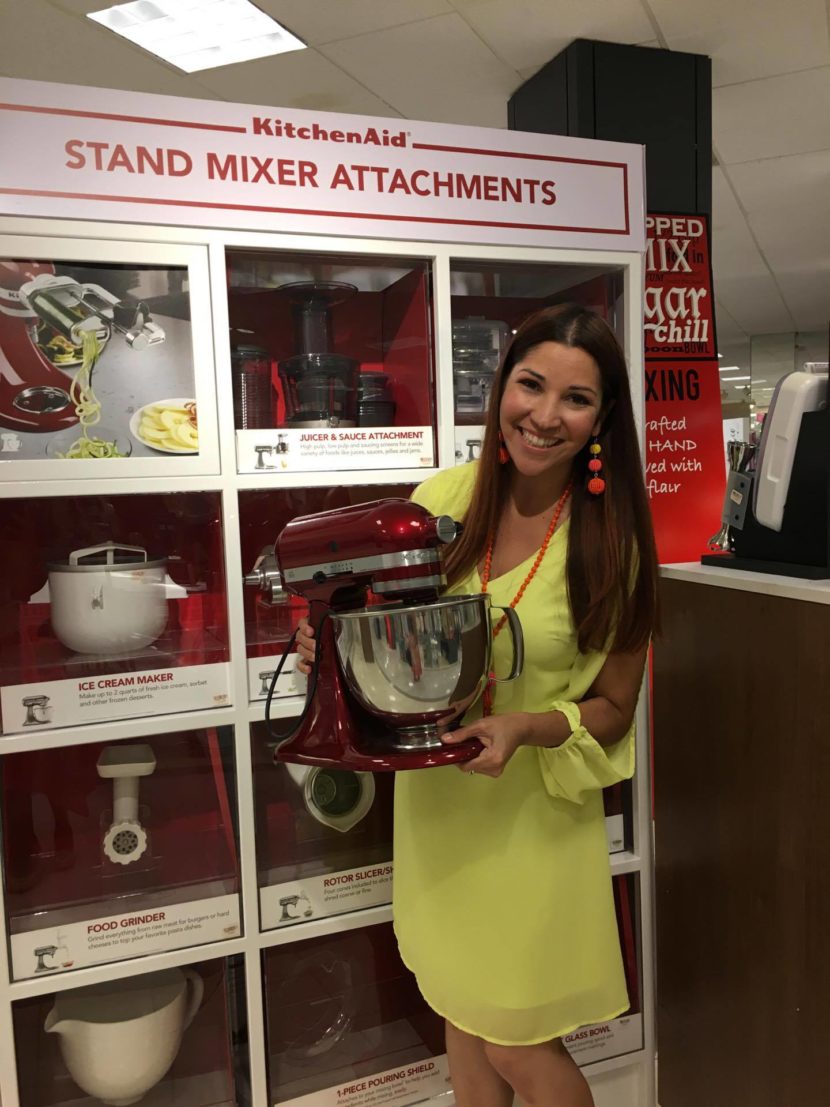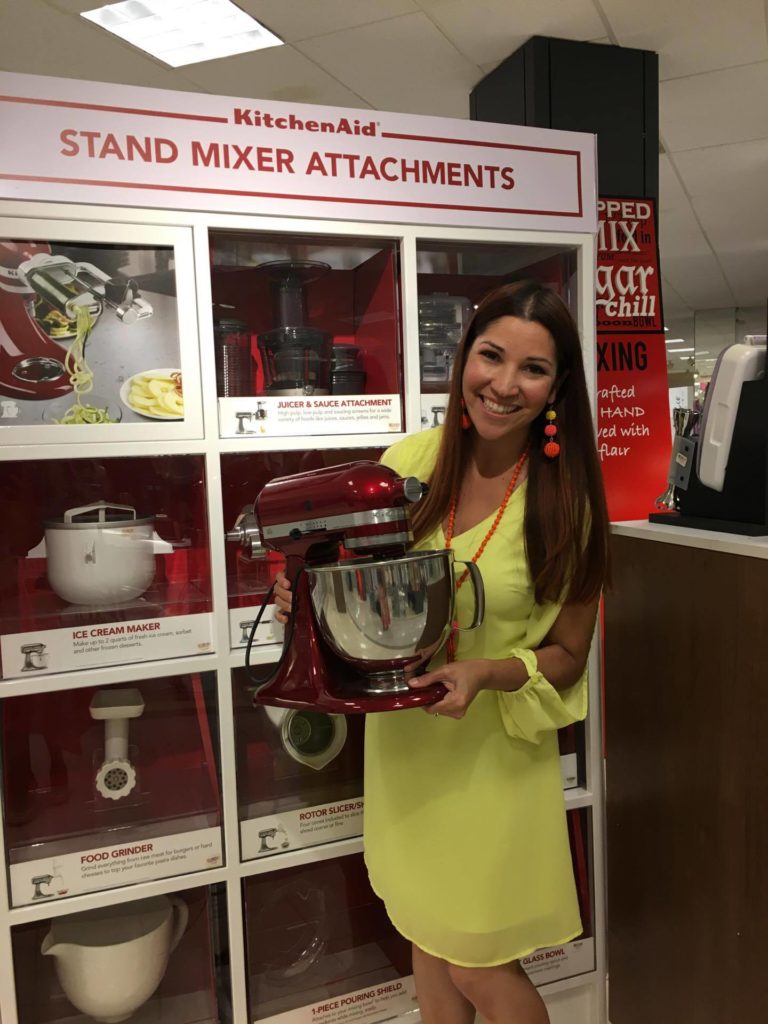 At this point, we could've wrapped it up and it would've been enough … but why stop when you're having so much fun! We moved on to the bedding area and they had some really pretty Martha Stewart bedding.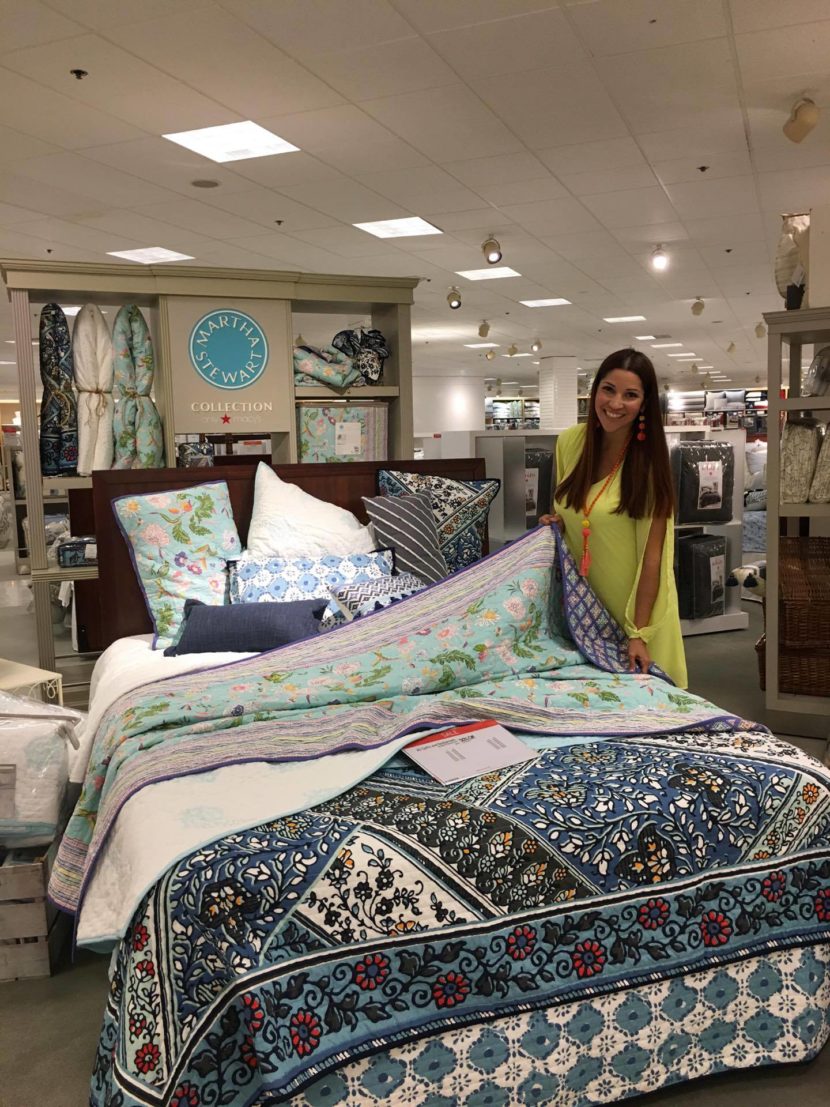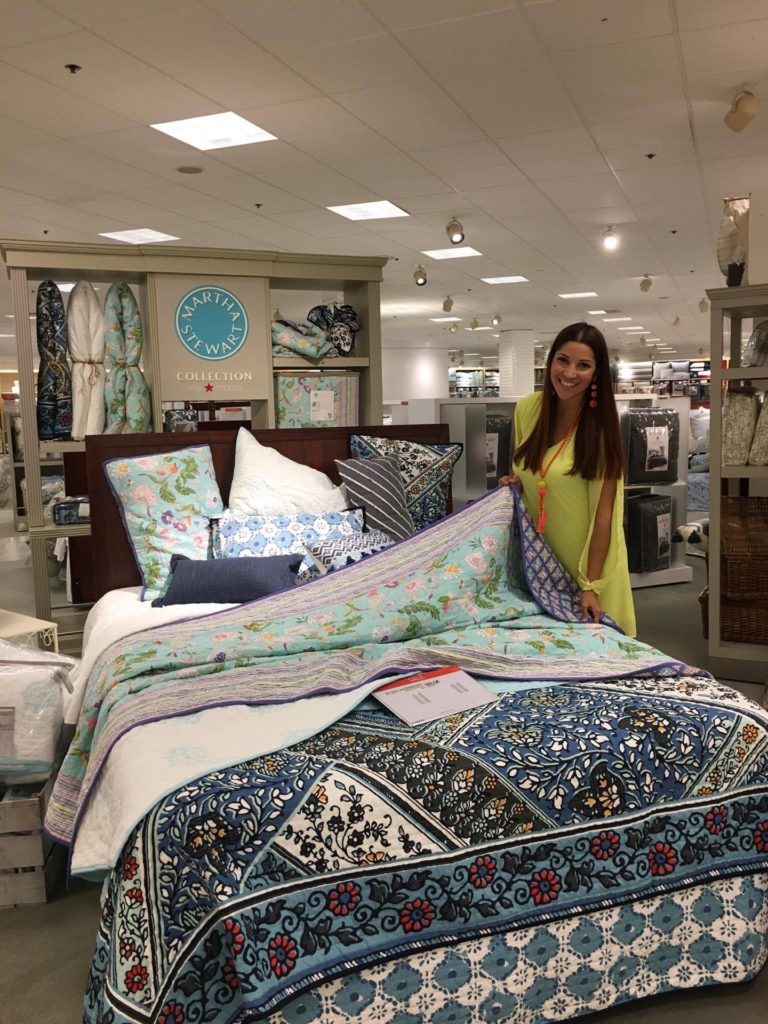 At this point, I have to admit I felt a little like a model. 🙂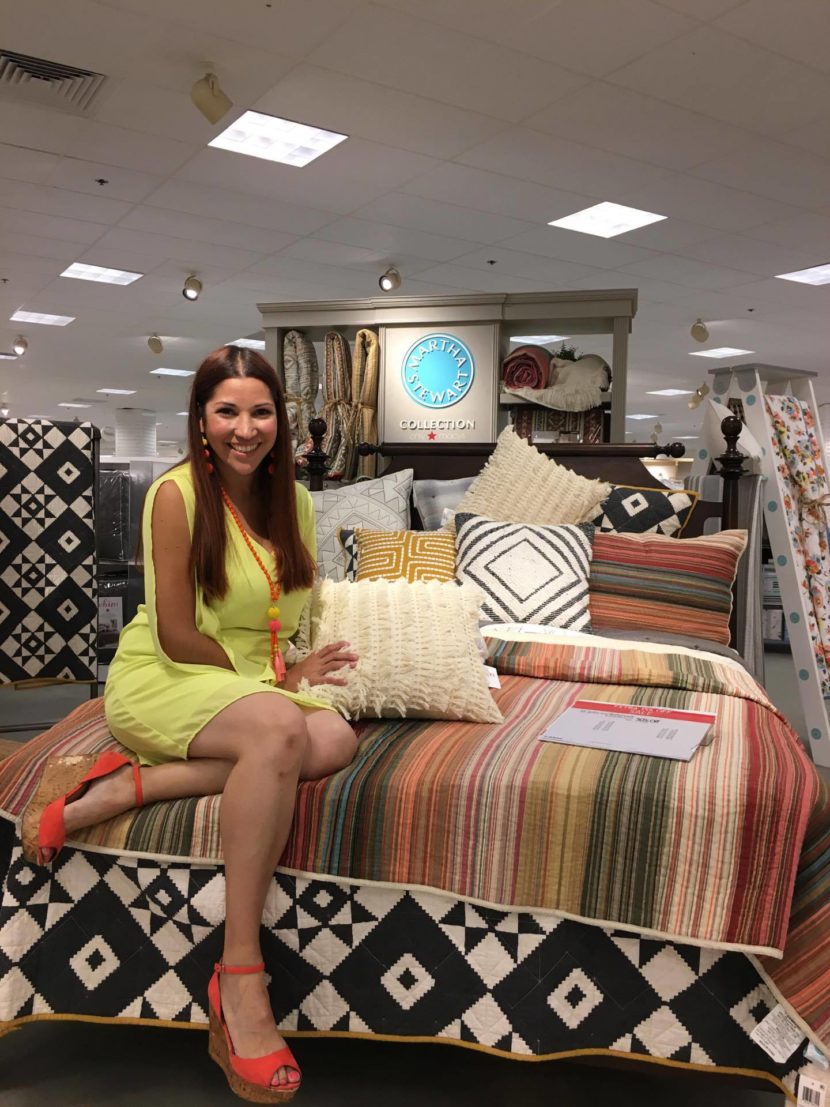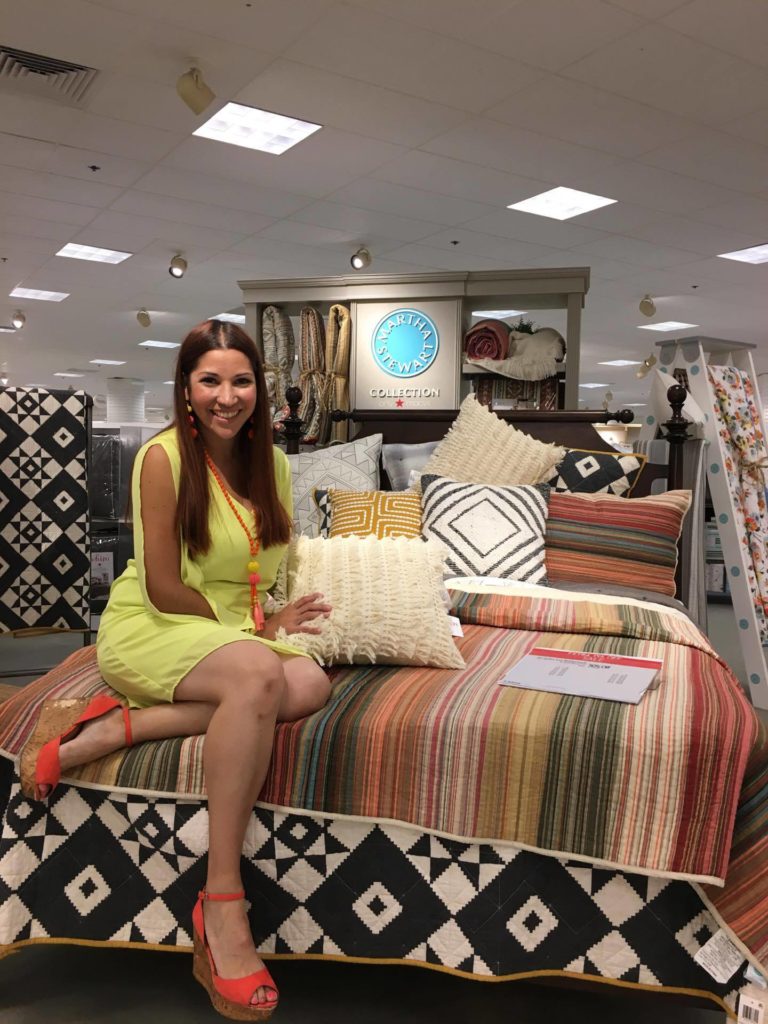 Seriously, this was a PARTY!
I'm thrilled I had the opportunity to be sponsored by Macy's and represent the Houston Latina Bloggers at the WIllowbrook Mall Home Shopping Party! Keep an eye out for more of these events soon! And thanks to everyone who stopped by and joined the party, especially Sylvia and her family (pink top and light blue tee) who came all the way from Pasadena! Love y'all, beautiful ladies!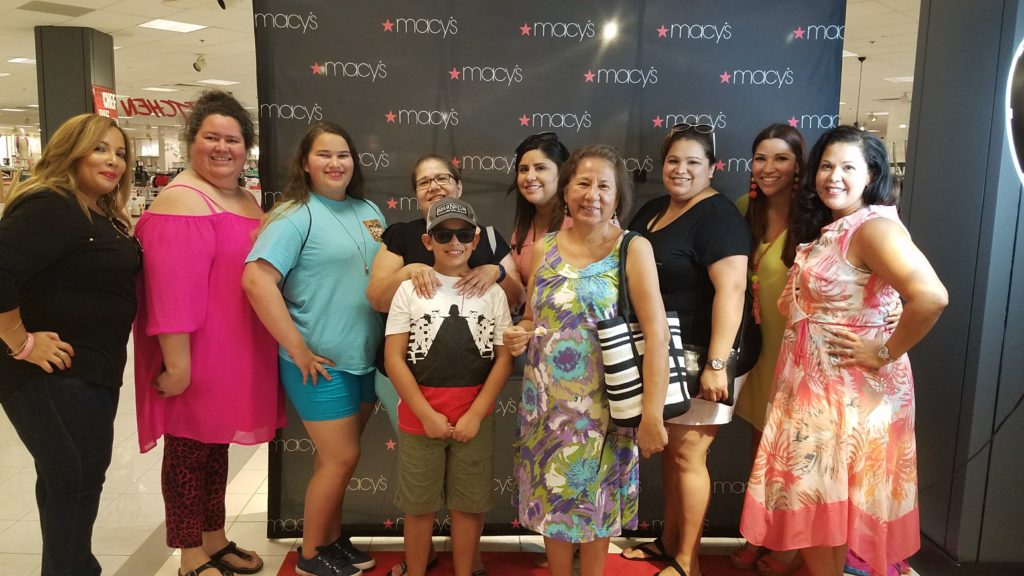 And it's always better with family.
Honestly, it couldn't have been more perfect … but THEN my heart was full when I saw that my mom (Mami) and grandma (Abuela Mamín) came all the way, almost an hour drive, to be with their daughter and granddaughter. My hubby Adam and our kids were already there (which made me happy to have them close by!) But this was a rare and very special occassion, since my Abuela Mamín was only visiting for the summer. We don't get a lot of these "4 generations" photo opps, so the fact that we got to share this day together made it extra special!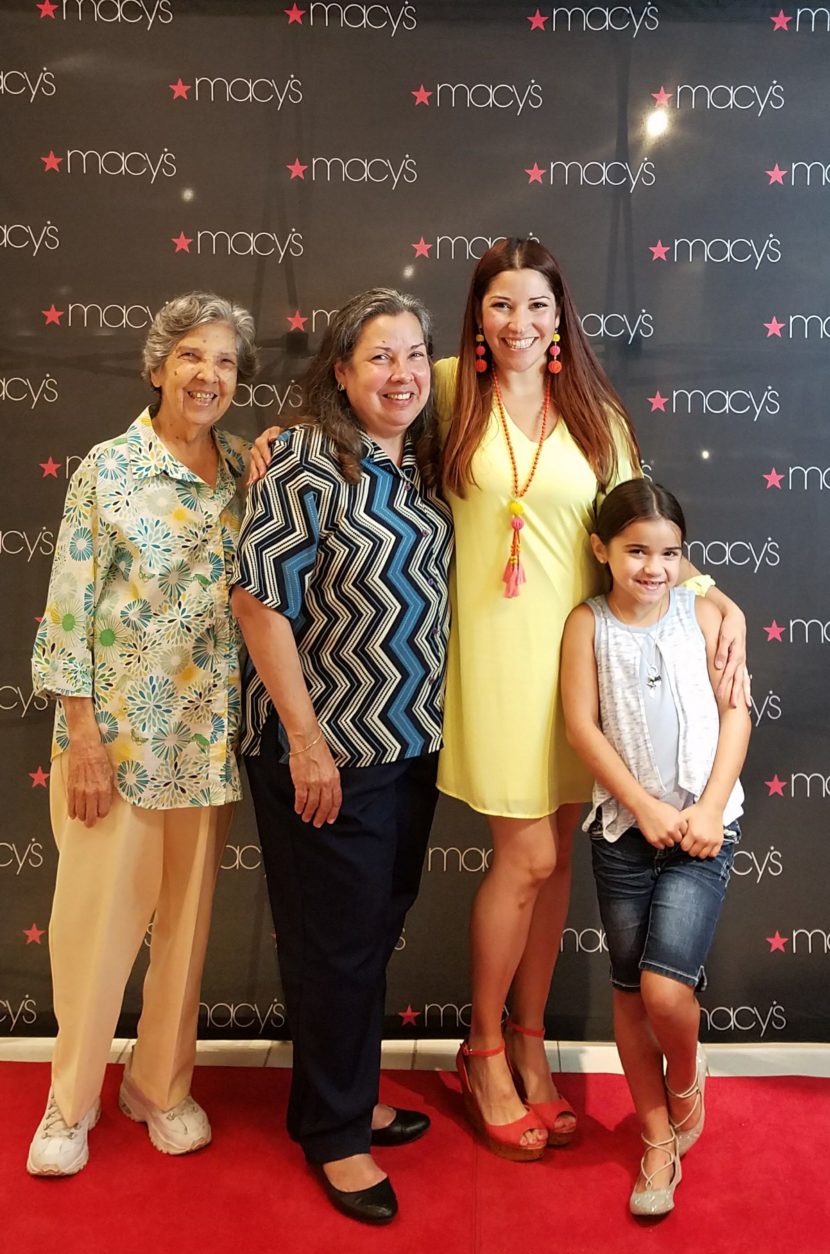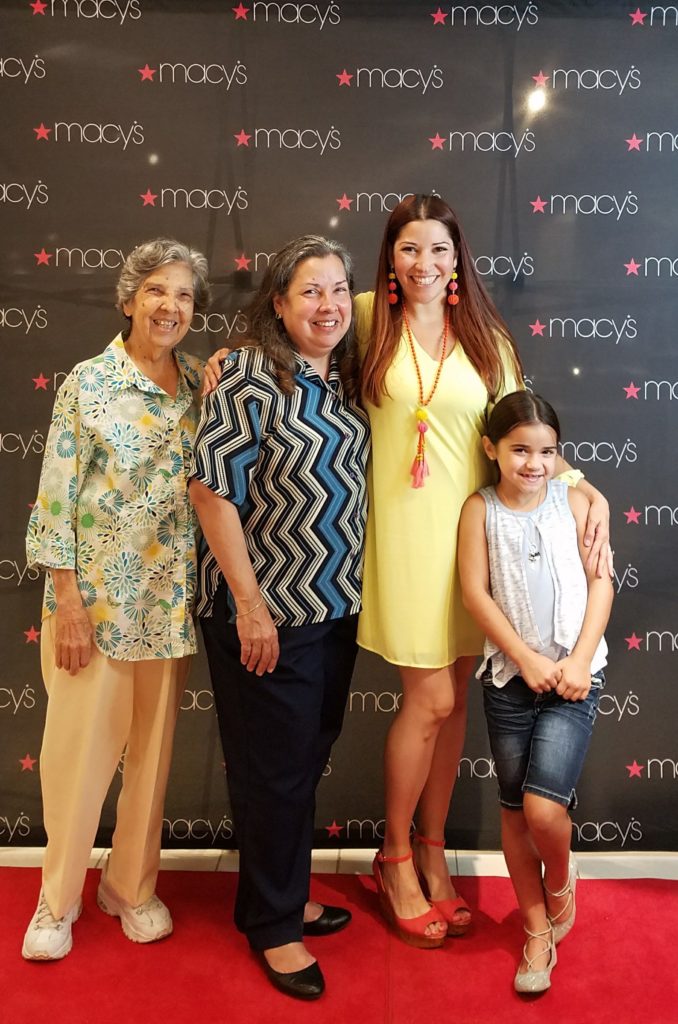 I hope you're able to enjoy some fun home shopping party time with your family and friends soon, too!
Laughing (and shopping and partying with family and friends) thru life,
Coppelia