*You may find affiliate links for things I love! At no extra cost to you, I could receive a small commission if you click and buy thru my links. Thanks! ~Coppelia
I'm excited to share this sponsored giveaway with you today! Read below to enter to win tickets to see Disney's hit musical Newsies at a movie theatre near you!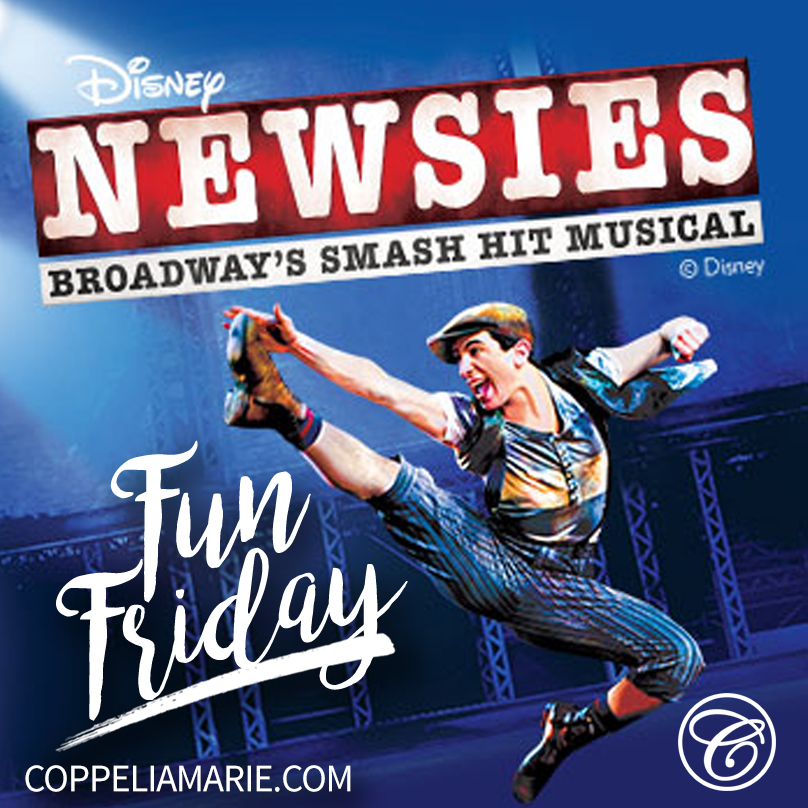 Here's the trailer, in case you're not familiar with Newsies, or Jeremy Jordan (love him) or just in case you hadn't heard about it. It's SO good!!! (Be careful … you're going to LOVE it!)
Are you into Broadway as much as I am? Do you dream of going to the theatre to see Hamilton? Wicked? Last year I saw Rodgers & Hammerstein's Cinderella with my mom and my daughter and we felt like we were "in the arms of our love, flying!"
There's something amazing and magical about watching a Broadway show, but we can't always make it out to a night at the theatre, which is why I'm SUPER excited to share this sponsored giveaway with YOU!
Disney's hit musical "Newsies" is coming to a movie theatre near you for three special nights:
February 16, 18 and 22!
Enter my Fun Friday Giveaway today for your chance to win tickets! Just click on THIS LINK to pick the date and theatre you want to attend. Winners will be notified by this Monday, February 13 by EOD!
Laughing (and singing musical hits) through life (for real … I'm singing!) lol,
Coppelia
(Disclosure: Our family receives movie tickets, in exchange for sharing this giveaway with you! All opinions are my own … I'm a huge fan of musicals! I was even a fan of the Disney Newsies movie when it came out back in the '90s! My sister and I used to sing the songs!)