*You may find affiliate links for things I love! At no extra cost to you, I could receive a small commission if you click and buy thru my links. Thanks! ~Coppelia
This fun Avengers: Infinity War digital giveaway is sponsored by Allied Integrated Marketing on behalf of Marvel Studios and Avengers: Infinity War. As always, all opinions are my own!
***UPDATE: Congrats to our giveaway winners, Emma and Derek!***
This is one of the FUN things I love doing here on the blog. You know my blog, CoppeliaMarie.com, is ALL about family, faith and fun! Today, we're focusing on the FUN with this Fun Friday Avengers: Infinity War Digital Giveaway! 
The giveaway prize includes: 
-One digital copy (not the blu-ray shown below) of the Avengers: Infinity War movie!
-One Avengers: Infinity War movie poster!
How to enter the giveaway:
We're keeping it super simple! Just answer this question in the blog comments below and you'll be entered to win one of the two prizes! The Blu-ray comes out Tuesday, August 14th, 2018, but you can win a digital copy here on the blog before it comes out!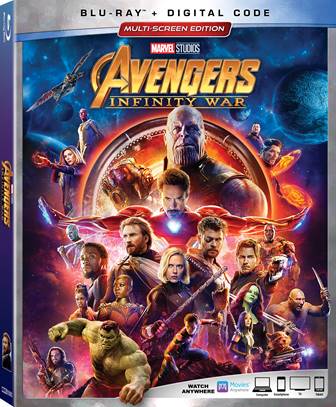 Question: Which Avenger do you think matches your personality the best?
Here are a few to help you get started: Iron Man, Thor, The Hulk, Captain America, Black Widow, War Machine, Spider Man, Black Panther … and so many more! It's hard to pick!
I'm having a hard time picking one Avenger to match my personality, but I found this "Oh My Disney Which Avenger: Infinity War character are you?" quiz and it said apparently I'm most like Spider Man! Ha! Because don't we all take these quizes to answer such important questions? Lol! Ok, maybe it's just me. Haha!
I actually liked the reason the quiz gave for why I'm most like Spider Man:
"You're always energetic and fun, not to mention a total ace at school. Your positive attitude and desire to help others makes you a great friend and confidant." 
Awwww! I hope that's true! (Hey, if these quizzes are going to make us feel better about ourselves, let's do it! Lol!)
Now, you give it a try! You can click here for the Avenger quiz, or just pick your favorite Avenger and post in the comments below for your entry into the giveaway and the opportunity to win!
I can't wait to see your answers!
More Avengers: Infinity War Fun!
If you want to get extra excited about watching the movie again (or for the first time), here's the trailer!
Avengers: Infinity War on SOCIAL:
If you want to connect with the official social media channels for the movie, here they are below! They're awesome for exclusive bonus content, artist interviews and so much more!
Share this Avengers: Infinity War Giveaway with your friends!
If you have other Avenger-loving friends, feel free to share this giveaway with them! The more the merrier (because if any of your friends win, maybe you can turn it into an Avengers watching party!)
I'll be accepting entries through Monday, August 13, 2018 at 6pm CST. We'll then pick a random winner from all the blog comment entries! That's just one day before the movie officially comes out on Blu-ray, Tuesday, August 14th!
I hope you have fun with the Avengers quiz! (Or not … maybe you don't need a quiz to tell you which Avenger matches your personality best!)
Thanks for checking out my blog and I hope you're one of the winners!
Laughing (and having fun) through life,
Coppelia